Discover more from The Weekly Stuff Wordcast
Writing about Movie, Games, TV & more!
The Weekly Stuff Podcast #235 – Revisiting Star Wars Episode IV A New Hope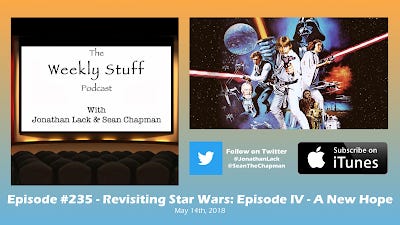 It's time for another episode of The Weekly Stuff Podcast with Jonathan Lack & Sean Chapman, a weekly audio show that explores the worlds of film, television, and video games. You can subscribe for free in iTunes by following this link. 
This week, we return to a galaxy far, far away for our next in-depth Star Wars discussion, and after going through all three prequels in previous episodes, we finally arrive at the film that started it all: Star Wars, also known as Episode IV: A New Hope. Unlike the prequels, this film neither demands nor requires a critical reevaluation – it's great, it's always been great, and most people who have ever seen a movie agree with that – but there are still plenty of avenues to follow in discussing what makes this such a joyous, singular, perfectly imperfect cinematic revelation, and it makes for a fun chat about one of our favorite movies. Jonathan also talks about his recent trip to Iowa, Sean talks a little more Norse mythology, and we go over some recent Nintendo and Xbox news to round out the episode. 
Enjoy! 
Time Chart:
Intro: 0:00:00 – 0:03:22
Stuff: 0:03:22 – 0:27:38
News: 0:27:38 – 0:52:13
Revisiting Star Wars: Episode IV – A New Hope: 0:52:13 – 2:54:16
Stream The Weekly Stuff Podcast Episode #235


Download 'The Weekly Stuff' Episode #235 as an MP3
Subscribe to our YouTube Channel!
Subscribe for free to 'The Weekly Stuff' in iTunes!
Follow Jonathan Lack on Twitter!
Follow Sean Chapman on Twitter!
The Weekly Stuff with Jonathan Lack & Sean Chapmanis a weekly audio podcast, and if you subscribe in iTunes, episodes will be delivered automatically and for free as soon as they are released. If you visit www.jonathanlack.com, we also have streaming and downloadable versions of new and archival episodes for your listening pleasure.