Discover more from The Weekly Stuff Wordcast
Writing about Movie, Games, TV & more!
The Weekly Stuff Podcast #237 – Reviewing Solo: A Star Wars Story, Talking Persona 3 & 5 Dancing, and more!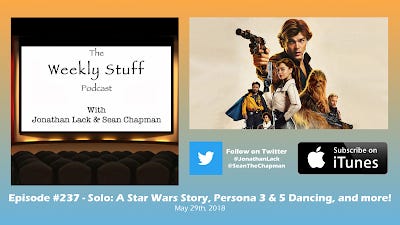 It's time for another episode of The Weekly Stuff Podcast with Jonathan Lack & Sean Chapman, a weekly audio show that explores the worlds of film, television, and video games. You can subscribe for free in iTunes by following this link. 
After just 5 months, Star Wars is back in theaters with Ron Howard's Solo: A Star Wars Story, and we have complicated feelings about it! We both like the film to varying degrees, but what both its content and tepid box-office performance say about the current state and confusing future of the franchise gives us an awful lot to talk about. We also discuss the Japanese releases of Persona 3: Dancing Moon Night and Persona 5: Dancing Star Night, the latest spin-off rhythm games from our favorite franchise. Jonathan asks Sean for help with Dark Souls Remastered, we ponder the news of an in-development Boba Fett movie, and much more! 
Enjoy! 
Time Chart:
Intro: 0:00:00 – 0:03:57
Persona 3 and Persona 5 Dancing Games: 0:03:57 – 0:28:28
Dark Souls Remastered: 0:28:28 – 0:36:32
News: 0:36:32 – 1:24:03
Solo: A Star Wars Story Review: 1:24:03 – 3:23:50 
Stream The Weekly Stuff Podcast Episode #237


Download 'The Weekly Stuff' Episode #237 as an MP3
Subscribe to our YouTube Channel!
Subscribe for free to 'The Weekly Stuff' in iTunes!
Follow Jonathan Lack on Twitter!
Follow Sean Chapman on Twitter!
The Weekly Stuff with Jonathan Lack & Sean Chapmanis a weekly audio podcast, and if you subscribe in iTunes, episodes will be delivered automatically and for free as soon as they are released. If you visit www.jonathanlack.com, we also have streaming and downloadable versions of new and archival episodes for your listening pleasure.