Discover more from The Weekly Stuff Wordcast
Writing about Movie, Games, TV & more!
The Weekly Stuff Podcast #241 – E3 2018 Day 3: Nintendo & Smash Bros Analysis and E3 Wrap-Up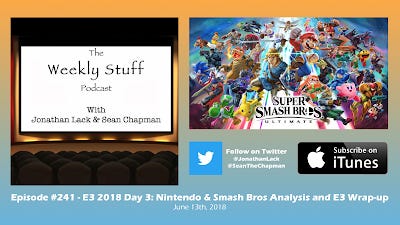 It's time for another episode of The Weekly Stuff Podcast with Jonathan Lack & Sean Chapman, a weekly audio show that explores the worlds of film, television, and video games. You can subscribe for free in iTunes by following this link. 
The third day of E3 2018 shows brought us Nintendo's showcase, which was almost entirely focused on the reveal of Super Smash Bros. Ultimate for Nintendo Switch. The game looks like it will deliver the goods and then some – but did the show need to spend over 25 minutes diving into such extreme minutiae? We answer this question and any more as we consider Nintendo's offerings, before diving into some final thoughts on everything we've seen over the past few days. We rank everybody's shows, list the best and worst games displayed on stage, and discuss the silliest, most impressive, and most surprising moments of this year's E3. 
Enjoy! 
Stream The Weekly Stuff Podcast Episode #241


Download 'The Weekly Stuff' Episode #241 as an MP3
Subscribe to our YouTube Channel!
Subscribe for free to 'The Weekly Stuff' in iTunes!
Follow Jonathan Lack on Twitter!
Follow Sean Chapman on Twitter!
The Weekly Stuff with Jonathan Lack & Sean Chapmanis a weekly audio podcast, and if you subscribe in iTunes, episodes will be delivered automatically and for free as soon as they are released. If you visit www.jonathanlack.com, we also have streaming and downloadable versions of new and archival episodes for your listening pleasure.