Discover more from The Weekly Stuff Wordcast
Writing about Movie, Games, TV & more!
The Weekly Stuff Podcast #257 – News Galore! Telltale Games, Tokyo Game Show, PlayStation Classic, and Dragon Quest XI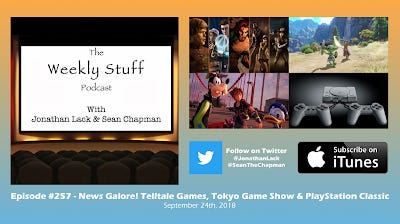 It's time for another episode of The Weekly Stuff Podcast with Jonathan Lack & Sean Chapman, a weekly audio show that explores the worlds of film, television, and video games. You can subscribe for free in iTunes by following this link. 
We really live up to the podcast's name this week, covering a wide assortment of stuff, including a large grab bag of video game, TV, and movie news from the past week. From the sudden closure of Telltale Games to trailers and announcements from the Tokyo Game Show to the launch of Nintendo's online service to Sony's surprise unveiling of the PlayStation Classic, this week brought a lot of surprising news to parse through. Sean also recommends some Spider-Man comics from the 1980s, Jonathan reviews Paul Feig's A Simple Favor, and we give some more spoiler-free impressions of Dragon Quest XI, now that Sean has also had some time with this truly amazing game. 
Enjoy!
Time Chart: 
Intro: 0:00:00 – 0:02:07
Stuff: 0:02:07 – 0:21:05
Dragon Quest XI Chat: 0:21:05 – 0:56:41
Telltale Games Closes: 0:56:41 – 1:17:07
Tokyo Game Show News: 1:17:07 – 1:41:17
Movie News: 1:41:17 – 1:55:50
Video Game News: 1:55:50 – 2:33:07
Listener Mail: 2:33:07 – 3:03:01 
Stream The Weekly Stuff Podcast Episode #257


Download 'The Weekly Stuff' Episode #257 as an MP3
Subscribe to our YouTube Channel!
Subscribe for free to 'The Weekly Stuff' in iTunes!
Follow Jonathan Lack on Twitter!
Follow Sean Chapman on Twitter!
The Weekly Stuff with Jonathan Lack & Sean Chapmanis a weekly audio podcast, and if you subscribe in iTunes, episodes will be delivered automatically and for free as soon as they are released. If you visit www.jonathanlack.com, we also have streaming and downloadable versions of new and archival episodes for your listening pleasure.