Discover more from The Weekly Stuff Wordcast
Writing about Movie, Games, TV & more!
The Weekly Stuff Podcast #263 – Tetris Effect, Red Dead 2, and Doctor Who S11E06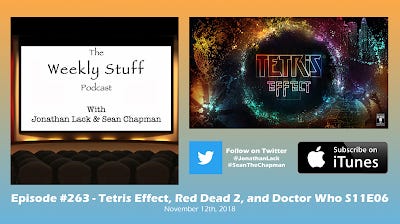 It's time for another episode of The Weekly Stuff Podcast with Jonathan Lack & Sean Chapman, a weekly audio show that explores the worlds of film, television, and video games. You can subscribe for free in iTunes by following this link. 
It's another grab-bag style week, as Sean and Jonathan give updates on their progress in Red Dead Redemption 2, Jonathan reviews the outstanding Tetris Effect for PS4, and we go over some recent weird news about Final Fantasy XV. Jonathan tells the story of his nearly-doomed trip to Illinois to see a concert, and Sean gives us a mini-lecture on the (surprisingly gay) delights of Herman Melville's Moby Dick. And finally, we at last have a good episode of Doctor Who to talk about this season, as Vinay Patel's "Demons of the Punjab" proved to be the first 13thDoctor outing with a strong story and solid character work, with a fascinating historical and cultural perspective to boot. 
Enjoy!
Time Chart:
Intro: 0:00:00 – 0:01:52
Stuff: 0:01:52 – 0:17:37
Tetris Effect: 0:17:37 – 0:30:10
Red Dead Redemption 2 Chat: 0:30:10 – 0:52:06 
News: 0:52:06 – 1:07:42
Doctor Who S11E06: 1:07:42 – 1:57:36 
Stream The Weekly Stuff Podcast Episode #263


Download 'The Weekly Stuff' Episode #263 as an MP3
Subscribe to our YouTube Channel!
Subscribe for free to 'The Weekly Stuff' in iTunes!
Follow Jonathan Lack on Twitter!
Follow Sean Chapman on Twitter!
The Weekly Stuff with Jonathan Lack & Sean Chapmanis a weekly audio podcast, and if you subscribe in iTunes, episodes will be delivered automatically and for free as soon as they are released. If you visit www.jonathanlack.com, we also have streaming and downloadable versions of new and archival episodes for your listening pleasure.