Discover more from The Weekly Stuff Wordcast
Writing about Movie, Games, TV & more!
The Weekly Stuff Podcast #269 – A Very Weekly Stuff Christmas Special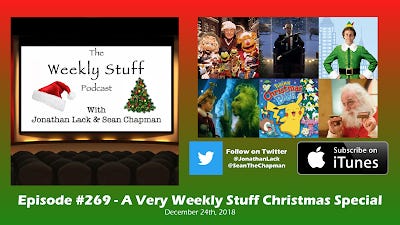 It's time for another episode of The Weekly Stuff Podcast with Jonathan Lack & Sean Chapman, a weekly audio show that explores the worlds of film, television, and video games. You can subscribe for free in iTunes by following this link. 
Since Monday fell on Christmas Eve this year, we thought we'd put together a special Holiday-themed episode this week, complete with gift-giving, Jonathan's impromptu list of the best (and worst) Christmas movies, a shared rant about people who care too much about Die Hard being a Christmas movie, and more! We also chat a bit more about Super Smash Bros. Ultimate and Hitman 2, before arriving at our main holiday topic: A live reaction/review of the worst Christmas album ever recorded. I won't spoil the album's identity here, but suffice to say, it makes for one of the silliest and most entertaining segments we've ever recorded. 
Enjoy, and happy holidays to all!
Stream The Weekly Stuff Podcast Episode #269


Download 'The Weekly Stuff' Episode #269 as an MP3
Subscribe to our YouTube Channel!
Subscribe for free to 'The Weekly Stuff' in iTunes!
Follow Jonathan Lack on Twitter!
Follow Sean Chapman on Twitter!
The Weekly Stuff with Jonathan Lack & Sean Chapmanis a weekly audio podcast, and if you subscribe in iTunes, episodes will be delivered automatically and for free as soon as they are released. If you visit www.jonathanlack.com, we also have streaming and downloadable versions of new and archival episodes for your listening pleasure.