Discover more from The Weekly Stuff Wordcast
Writing about Movie, Games, TV & more!
The Weekly Stuff Podcast #274 – 2019 Year-in-Preview Spectacular!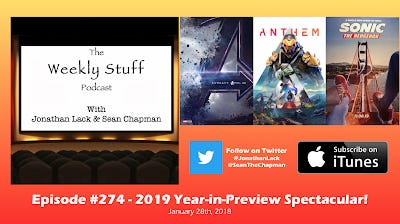 It's time for another episode of The Weekly Stuff Podcast with Jonathan Lack & Sean Chapman, a weekly audio show that explores the worlds of film, television, and video games. You can subscribe for free in iTunes by following this link. 
This week, we look ahead to the year that is now upon us, 2019, and preview all the upcoming films and video games we know about that are either exciting, baffling, dread-inducing, or a mixture of all three. We also make a competitive draft of which seemingly far-off video games are most likely to actually see the light of day in 2019, while Jonathan predicts just what obscene amounts of money Disney will make on their cavalcade of remakes and sequels this year. We also discuss this week's big Metroid Prime news, talk more Destiny 2 and Dragon Quest, and answer some listener mail about the upcoming year. 
Enjoy! 
Time Chart: 
Intro: 0:00:00 – 0:01:50
Stuff: 0:01:50 – 0:40:21
News: 0:40:21 – 1:00:45
Listener Mail: 1:00:45 – 1:16:53
2019 Movie Preview: 1:16:53 – 2:04:40
2019 Video Game Preview: 2:04:40 – 3:03:45 
Stream The Weekly Stuff Podcast Episode #274


Download 'The Weekly Stuff' Episode #274 as an MP3
Subscribe to our YouTube Channel!
Subscribe for free to 'The Weekly Stuff' in iTunes!
Follow Jonathan Lack on Twitter!
Follow Sean Chapman on Twitter!
The Weekly Stuff with Jonathan Lack & Sean Chapmanis a weekly audio podcast, and if you subscribe in iTunes, episodes will be delivered automatically and for free as soon as they are released. If you visit www.jonathanlack.com, we also have streaming and downloadable versions of new and archival episodes for your listening pleasure.