Discover more from The Weekly Stuff Wordcast
Writing about Movie, Games, TV & more!
The Weekly Stuff Podcast #280 – Yoshi's Crafted World & Sekiro: Shadows Die Twice Reviews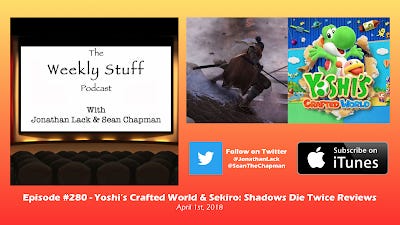 It's time for another episode of The Weekly Stuff Podcast with Jonathan Lack & Sean Chapman, a weekly audio show that explores the worlds of film, television, and video games. You can subscribe for free in iTunes by following this link. 
This week, we review Sekiro: Shadows Die Twice and Yoshi's Crafted World, two games that couldn't seem more different, but weirdly wind up teaching a lot of the same lessons in how to create a quality video game. Before that, we also kick back and talk about some Stuff – like Jonathan's first time playing the cult classicCastlevania: Rondo of Blood, or trying to explain the plot of Season 3 of The Flash to Sean – and hit some recent news items, like the passing of the great Agnes Varda, rumors about Nintendo's new Switch hardware offerings, and the single strangest streaming video announcement we've ever heard (that last one, from 1:26:25 to 1:35:21, is one you definitely won't want to miss). 
Enjoy! 
Time Chart:
Intro: 0:00:00 – 0:10:32
Stuff: 0:10:32 – 0:55:55
News: 0:55:55 – 1:35:21
Yoshi & Sekiro: 1:35:21 – 2:34:30 
Stream The Weekly Stuff Podcast Episode #280


Download 'The Weekly Stuff' Episode #280 as an MP3
Subscribe to our YouTube Channel!
Subscribe for free to 'The Weekly Stuff' in iTunes!
Follow Jonathan Lack on Twitter!
Follow Sean Chapman on Twitter!
The Weekly Stuff with Jonathan Lack & Sean Chapmanis a weekly audio podcast, and if you subscribe in iTunes, episodes will be delivered automatically and for free as soon as they are released. If you visit www.jonathanlack.com, we also have streaming and downloadable versions of new and archival episodes for your listening pleasure.