Discover more from The Weekly Stuff Wordcast
Writing about Movie, Games, TV & more!
The Weekly Stuff Podcast #283 – Avengers Endgame Review & Discussion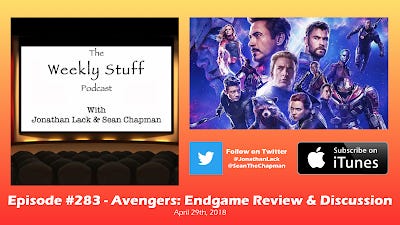 It's time for another episode of The Weekly Stuff Podcast with Jonathan Lack & Sean Chapman, a weekly audio show that explores the worlds of film, television, and video games. You can subscribe for free in iTunes by following this link. 
Marvel's Avengers: Endgame is the biggest movie in the world right now, and we dive deep with this culmination of a series we've been discussing on this podcast since the earliest days of our show! It's an amazing film in so many ways – on its own terms, but also as a cultural experience – and more than worthy of a long, in-depth talk about all the characters, set pieces, and the surprisingly cathartic sense of finality the film builds to in its closing act. Jonathan also talks about his experiences playing The Legend of Zelda: Breath of the Wild in Nintendo's Labo VR, and we go over the reveal of Persona 5 The Royal andPersona 5 Scramble, and why Atlus teased a Switch port for so long only to pull away the football with these announcements. 
Enjoy! 
Time Chart:
Intro: 0:00:00 – 0:08:40
Zelda in Labo VR: 0:08:40 – 0:27:22
Persona 5 News: 0:27:22 – 0:42:00
Avengers Endgame: 0:42:00 – 3:08:50 
Stream The Weekly Stuff Podcast Episode #283


Download 'The Weekly Stuff' Episode #283 as an MP3
Subscribe to our YouTube Channel!
Subscribe for free to 'The Weekly Stuff' in iTunes!
Follow Jonathan Lack on Twitter!
Follow Sean Chapman on Twitter!
The Weekly Stuff with Jonathan Lack & Sean Chapmanis a weekly audio podcast, and if you subscribe in iTunes, episodes will be delivered automatically and for free as soon as they are released. If you visit www.jonathanlack.com, we also have streaming and downloadable versions of new and archival episodes for your listening pleasure.