Discover more from The Weekly Stuff Wordcast
Writing about Movie, Games, TV & more!
The Weekly Stuff Podcast #293 – Our Top 10 Favorite Video Game Soundtracks, Part 1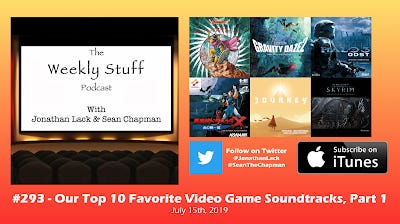 It's time for another episode of The Weekly Stuff Podcast with Jonathan Lack & Sean Chapman, a weekly audio show that explores the worlds of film, television, and video games. You can subscribe for free in iTunes by following this link. 
There's little we love more than a good video game soundtrack – the music that connects us with our most treasured gaming experiences, drawing us in with emotion, grandeur, thrills, and wonder. There are so many great ones, we've wanted to count down our favorites for a while, and this week, we're doing just that – it's our Top 10 Favorite Video Game Soundtracks! Sean and Jonathan have each compiled their own Top 10 lists, Jonathan' brother (and actual musician) Thomas has sent in his own, and with a bunch of listener contributions, we're discussing over 20 amazing soundtracks in this episode alone, with over 75 pieces of video game music sampled to give you a sense of the musical worlds we're talking about. And this is just Part 1! The discussion was simply too big to fit in one episode, so while we count down #10 - #5 on our lists this week, we'll be back next week with #4 - #1, Honorable Mentions, and much more! This is one of our favorite episodes we've ever put together, and we hope you have as much fun listening as we had making it. 
Enjoy! 
Time Chart:
Intro: 0:00:00 - 0:07:10
Nintendo Switch Lite News: 0:07:10 – 0:23:05
Favorite Video Game Soundtracks, Part 1: 0:23:05 – 2:45:10 
Stream The Weekly Stuff Podcast Episode #293


Download 'The Weekly Stuff' Episode #293 as an MP3
Subscribe to our YouTube Channel!
Subscribe for free to 'The Weekly Stuff' in iTunes!
Follow Jonathan Lack on Twitter!
Follow Sean Chapman on Twitter!
The Weekly Stuff with Jonathan Lack & Sean Chapmanis a weekly audio podcast, and if you subscribe in iTunes, episodes will be delivered automatically and for free as soon as they are released. If you visit www.jonathanlack.com, we also have streaming and downloadable versions of new and archival episodes for your listening pleasure.