Discover more from The Weekly Stuff Wordcast
Writing about Movie, Games, TV & more!
The Weekly Stuff Podcast #297 – Fire Emblem Three Houses Review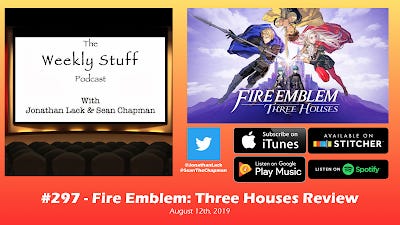 It's time for another episode of The Weekly Stuff Podcast with Jonathan Lack & Sean Chapman, a weekly audio show that explores the worlds of film, television, and video games. You can subscribe for free in iTunes by following this link. 
As summer comes to a close and our non-podcast lives get busy again, it's a shorter podcast this week, centered around Jonathan's thoughts after 70 hours of Fire Emblem: Three Houses on Nintendo Switch. It's a very good game, great in many ways, and has many 'series best' superlative qualities. Why, then, does Jonathan feel so conflicted about it after playing so much? There's a lot to break down and it makes up the bulk of the episode (all spoiler free), but we also make time for a few exciting pieces of housekeeping – the podcast is now on Spotify! – and Sean talks about rewatching Neon Genesis Evangelion on Netflix only to find that it's more problematic than he remembered. 
Enjoy!
Time Chart:
Intro: 0:00:00 – 0:09:17
Sean Talks Evangelion: 0:09:17 – 0:15:42
Fire Emblem Three HousesReview: 0:15:42 – 0:52:43 
Stream The Weekly Stuff Podcast Episode #297


Download 'The Weekly Stuff' Episode #297 as an MP3
Subscribe to our YouTube Channel!
Subscribe for free to 'The Weekly Stuff' in iTunes!
Follow Jonathan Lack on Twitter!
Follow Sean Chapman on Twitter!
The Weekly Stuff with Jonathan Lack & Sean Chapmanis a weekly audio podcast, and if you subscribe in iTunes, episodes will be delivered automatically and for free as soon as they are released. If you visit www.jonathanlack.com, we also have streaming and downloadable versions of new and archival episodes for your listening pleasure.