Discover more from The Weekly Stuff Wordcast
Writing about Movie, Games, TV & more!
The Weekly Stuff Podcast #323 – Resident Evil, Classic Doom, Game Delays, and Mobile Fighter G Gundam Review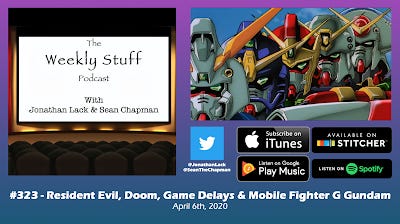 It's time for another episode of The Weekly Stuff Podcast with Jonathan Lack & Sean Chapman, a weekly audio show that explores the worlds of film, television, and video games. You can subscribe for free in iTunes by following this link. 
This week is another crossover with our sister series, Weekly Suit Gundam, as we dive deep into the wacky and wonderful world of Alternate Universe Gundam for the first time with 1994's bizarre Shonen soap-opera classic Mobile Fighter G Gundam, one of the strangest, coolest, and most endearingly heartfelt entries in the entire Gundam franchise. That discussion takes up the bulk of today's extra-long show, but if you haven't seen G Gundam, fear not! We also give another update on Life in the Time of Coronavirus, Jonathan talks about playing the remakes of Resident Evil 1, 2, and 3, Sean relays the joys of playing classic Doom and Doom II, and we talk about the indefinite delay of Naughty Dog's The Last of Us Part II and what this means for AAA video game releases going forward in 2020. 
Enjoy!
Time Chart: 
Intro: 0:00:00 – 0:20:55
Resident Evil: 0:20:55 – 0:47:38
Classic Doom: 0:47:38 – 0:58:30 
Game Delays: 0:58:30 – 1:05:09
G Gundam: 1:05:09 – 4:10:03
Stream The Weekly Stuff Podcast Episode #323


Download 'The Weekly Stuff' Episode #323 as an MP3
Subscribe to The Weekly Stuff Wordcast Newsletter!
Subscribe to our YouTube Channel!
Subscribe for free to 'The Weekly Stuff' in iTunes!
Follow Jonathan Lack on Twitter!
Follow Sean Chapman on Twitter!
The Weekly Stuff with Jonathan Lack & Sean Chapman is a weekly audio podcast, and if you subscribe in iTunes, episodes will be delivered automatically and for free as soon as they are released. If you visit www.jonathanlack.com, we also have streaming and downloadable versions of new and archival episodes for your listening pleasure.