Discover more from The Weekly Stuff Wordcast
Writing about Movie, Games, TV & more!
The Weekly Stuff Podcast #332 – Black Lives Matter, F*** the Police, and Reviewing Turn A Gundam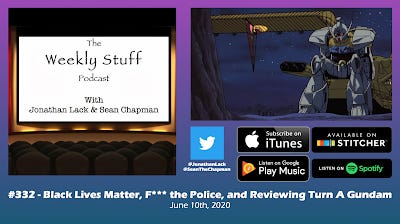 It's time for another episode of The Weekly Stuff Podcast with Jonathan Lack & Sean Chapman, a weekly audio show that explores the worlds of film, television, and video games. You can subscribe for free in iTunes by following this link. 
This week's episode is primarily the topic from today's Weekly Suit Gundam, our Mobile Suit Gundam-themed sister series, which turns one year old today as we review 1999's Turn A Gundam, one of the greatest and most thematically rich corners of the entire Gundam universe. But we also take some time at the top of the show to discuss the protests that have grown across the United States and abroad against police brutality and systemic racism. Our perspective as two white guys is only worth so much, obviously, but we wanted to acknowledge the reality of this historic moment, and Sean's insight as a young public school teacher in a country that prioritizes state violence over education is definitely worth hearing. 
We also share a few links to worthy causes we strongly encourage listeners to support, which include: 
Black Lives Matter Resource Hub – https://blacklivesmatters.carrd.co
Minnesota Freedom Fund – https://minnesotafreedomfund.org
Reclaim the Block – https://www.reclaimtheblock.org/
Black Visions Collective – https://www.blackvisionsmn.org
Colorado Freedom Fund – https://fundly.com/coloradofreedom
National Bail Fund Network – https://www.communityjusticeexchange.org/nbfn-directory
ActBlue Racial Justice Donation – https://secure.actblue.com/donate/bail_funds_george_floyd
George Floyd Memorial Fund – https://www.gofundme.com/f/georgefloyd
Justice For Breonna Taylor – https://www.gofundme.com/f/9v4q2-justice-for-breonna-taylor
I Run With Maud (Ahmaud Arbery Memorial Fund) – https://www.gofundme.com/f/i-run-with-maud
Ramsey Orta Welcome Home Fund – https://www.gofundme.com/f/ramsey-orta-welcome-home-fund
Stream The Weekly Stuff Podcast Episode #332


Download 'The Weekly Stuff' Episode #332 as an MP3
Subscribe to our YouTube Channel!
Subscribe for free to 'The Weekly Stuff' in iTunes!
Follow Jonathan Lack on Twitter!
Follow Sean Chapman on Twitter!
The Weekly Stuff with Jonathan Lack & Sean Chapman is a weekly audio podcast, and if you subscribe in iTunes, episodes will be delivered automatically and for free as soon as they are released. If you visit www.jonathanlack.com, we also have streaming and downloadable versions of new and archival episodes for your listening pleasure.