Discover more from The Weekly Stuff Wordcast
Writing about Movie, Games, TV & more!
The Weekly Stuff Podcast #338 – Final Fantasy VII, Video Game Pricing, and TV's Reckoning with Blackface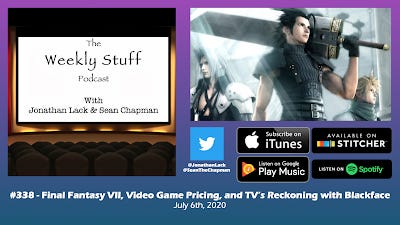 It's time for another episode of The Weekly Stuff Podcast with Jonathan Lack & Sean Chapman, a weekly audio show that explores the worlds of film, television, and video games. You can subscribe for free in iTunes by following this link. 
This week's episode is a real humdinger of tonal and topical shifts. We start with some Final Fantasy VII chat – Sean having just played Crisis Core, the PSP spin-off, and Jonathan having just finished this year's Remake – Jonathan reviews Minecraft Dungeons, and we discuss how weirdly prescient Steven Spielberg's Jaws feels in a moment of profound government incompetence. For the news, we discuss reports that video games might be moving to a $70 price point for the new generation, and the weird state of video game pricing over the last generation. And then we jump into some really heavy topics, first discussing J.K. Rowling's abhorrent, hateful screeds against transgender people, and then talking about the sexual assault allegations that have rocked the fighting game community. Finally, we look at how American TV has been responding to the Black Lives Matter movement, both in finally realizing white people probably shouldn't voice black characters in animation, and in how they're treating recent material, from shows like 30 Rock or Mad Men, that used blackface. This is a complex issue that demands a fuller understanding of historical context, and we try to give some of that while also discussing the many ways these producers and companies could go further to educating and making amends instead of just scrubbing the internet of problematic material. 
Enjoy!
Time Chart:
Intro: 0:00:00 – 0:05:00
Final Fantasy VII Stuff: 0:05:00 – 0:49:22
Other Stuff: 0:49:22 – 1:04:12
News: 1:04:12 – 2:07:45
TV, Voice Actors, and Blackface: 2:07:45 – 3:07:24 
Stream The Weekly Stuff Podcast Episode #338


Download 'The Weekly Stuff' Episode #338 as an MP3
Subscribe to our YouTube Channel!
Subscribe for free to 'The Weekly Stuff' in iTunes!
Follow Jonathan Lack on Twitter!
Follow Sean Chapman on Twitter!
The Weekly Stuff with Jonathan Lack & Sean Chapman is a weekly audio podcast, and if you subscribe in iTunes, episodes will be delivered automatically and for free as soon as they are released. If you visit www.jonathanlack.com, we also have streaming and downloadable versions of new and archival episodes for your listening pleasure.