Discover more from The Weekly Stuff Wordcast
Writing about Movie, Games, TV & more!
The Weekly Stuff Podcast #347 – Genshin Impact, Hades, Minecraft in Smash, Listener Mail & More!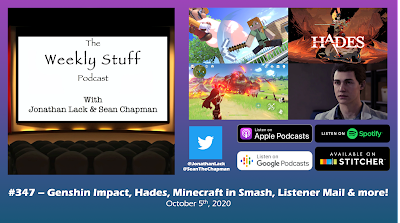 It's time for another episode of The Weekly Stuff Podcast with Jonathan Lack & Sean Chapman, a weekly audio show that explores the worlds of film, television, and video games. You can subscribe for free in iTunes by following this link.
We cover a lot of ground in this week's episode, from news including multiple weird Spider-Man announcements (movie and game) to a discussion on the state of movie theaters and releases amidst the pandemic, plus some new game impressions and a big bag of listener mail! To start, Sean gives some early thoughts on Genshin Impact, the Chinese free-to-play game that mixes Breath of the Wild with Gacha mechanics, and Jonathan discusses his early love for Hades, the latest critical darling from Supergiant. Then we go over the news, including the unveiling of Steve (and Alex) from Minecraft joining Super Smash Bros. Ultimate, before diving into the listener mail, where we discuss where our Persona 5 Royal review is, what's in our backlog, questions about movies and TV, and possibly commit ourselves to a very dumb topic for December of 2021.
Enjoy!
Time Chart: 
Intro and Stuff: 0:00:00 – 0:17:59  
Genshin Impact: 0:17:59 – 0:33:17
Hades: 0:33:17 – 0:45:39
News: 0:45:39 – 1:42:56
Listener Mail: 1:42:56 – 2:27:24
Stream The Weekly Stuff Podcast Episode #347
Download 'The Weekly Stuff' Episode #347 as an MP3 
Subscribe to our YouTube Channel! 
Subscribe for free to 'The Weekly Stuff' in iTunes!
Follow Jonathan Lack on Twitter!
Follow Sean Chapman on Twitter!
The Weekly Stuff with Jonathan Lack & Sean Chapman is a weekly audio podcast, and if you subscribe in iTunes, episodes will be delivered automatically and for free as soon as they are released. If you visit www.jonathanlack.com, we also have streaming and downloadable versions of new and archival episodes for your listening pleasure.