Discover more from The Weekly Stuff Wordcast
Writing about Movie, Games, TV & more!
The Weekly Stuff Podcast #358 – Batman on Film Part 3: BATMAN RETURNS (1992) with Michael Keaton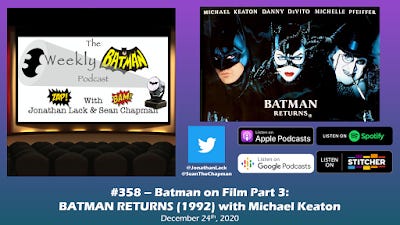 It's time for another festive Christmas episode of The Weekly Stuff Podcast with Jonathan Lack & Sean Chapman, a weekly audio show that explores the worlds of film, television, and video games. You can subscribe for free in Apple Podcasts by following this link.
For part 3 of our Batman on Film series, we move into the 90s with Tim Burton and Michael Keaton's second outing with the character, the amazingly bizarre, deeply silly, and profoundly psychosexual Batman Returns. It is one of the wildest, weirdest mainstream movies to ever come out of Hollywood, and also one of the best and boldest Batman films ever made – a gothic, expressionist, Freudian nightmare with one of the best sets of villains comic book movies have ever seen, in Danny DeVito's Penguin, Christopher Walken's Max Shrek, and especially Michelle Pfeiffer's outstanding take on Catwoman. It is also, clearly and indisputably, a Christmas movie – if a particularly disturbing one – which makes it a perfect topic for our annual Christmas episode.
This is also our last episode of 2020, so stick around to the end of the show for a message of thanks from Jonathan, and a countdown of his Top 10 Favorite Weekly Stuff and Weekly Suit Gundam episodes of the year! Enjoy, and we'll see you in 2021!
Stream The Weekly Stuff Podcast Episode #358
Download 'The Weekly Stuff' Episode #358 as an MP3
Subscribe to our YouTube Channel!
Subscribe for free to 'The Weekly Stuff' in iTunes!
Follow Jonathan Lack on Twitter!
Follow Sean Chapman on Twitter!
The Weekly Stuff with Jonathan Lack & Sean Chapman is a weekly audio podcast, and if you subscribe in iTunes, episodes will be delivered automatically and for free as soon as they are released. If you visit www.jonathanlack.com, we also have streaming and downloadable versions of new and archival episodes for your listening pleasure.