Discover more from The Weekly Stuff Wordcast
Writing about Movie, Games, TV & more!
The Weekly Stuff Podcast #362 - 13 Sentinels: Aegis Rim Spoiler Discussion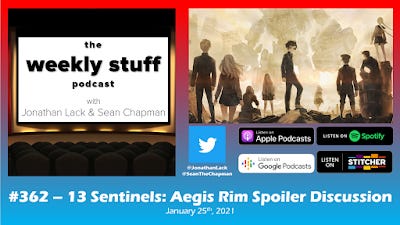 It's time for another episode of The Weekly Stuff Podcast with Jonathan Lack & Sean Chapman, a weekly audio show that explores the worlds of film, television, and video games. You can subscribe for free in Apple Podcasts or wherever you get your podcasts.
Ranking at #2 and #5 on Sean and Jonathan's respective Top 10 Games of 2020 lists, Vanillaware's 13 Sentinels: Aegis Rim is undeniably one of the most singular gaming experiences of the last year – an incredibly compelling, blissfully confusing, wickedly intelligent mix of the visual novel, adventure game, and real-time strategy genres into one unique package that is absolutely unlike anything we've played before. A mecha and kaiju story with aspects of just about every anime genre under the sun – from high school shows to mystery dramas to magical girl series – 13 Sentinels is more than worthy of a deep dive discussion, especially considering it was a podcast listener who turned us onto the game in the first place! Consider this episode our thanks for the recommendation – and a strong encouragement for those who haven't played it yet to take the plunge.
Enjoy!
TIME CHART:
Intro: 0:00:00 – 0:06:50
13 Sentinels: 0:06:50 – 2:19:23
Stream The Weekly Stuff Podcast Episode #362
Subscribe to our YouTube Channel!
Subscribe for free to 'The Weekly Stuff' in Apple Podcasts!
Follow Jonathan Lack on Twitter!
Follow Sean Chapman on Twitter!
The Weekly Stuff with Jonathan Lack & Sean Chapman is a weekly audio podcast, and if you subscribe on Apple Podcasts or wherever you get your podcasts, episodes will be delivered automatically and for free as soon as they are released. Visit www.weeklystuffpodcast.com for a complete archive of streaming and downloadable episodes.