Discover more from The Weekly Stuff Wordcast
Writing about Movie, Games, TV & more!
The Weekly Stuff Podcast #370 – GODZILLA VS KONG vs KING KONG VS GODZILLA: DAWN OF KAIJU JUSTICE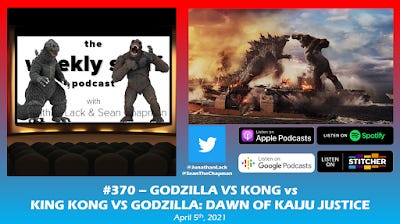 It's time for another episode of The Weekly Stuff Podcast with Jonathan Lack & Sean Chapman, a weekly audio show that explores the worlds of film, television, and video games. You can subscribe for free in Apple Podcasts or wherever you get your podcasts.
The great Kaiju showdown of our time has arrived in Legendary Pictures' Godzilla vs Kong, the fourth film and grand culmination in their ongoing 'MonsterVerse,' and to celebrate, we're not just reviewing this movie – we're also going back to Round 1 of this particular match-up, discussing the original Toho King Kong vs Godzilla from 1962! And that's not all! We also dive into the other Legendary Pictures monster movies to recap our thoughts on the entire series, and we discuss the original Toho Godzilla vs Mechagodzilla for reasons that should be apparent to anyone who's seen Godzilla vs Kong! It's a grand old time talking about these wonderful monster icons, a chance to not only review this surprisingly great new movie, but to do the kind of big Kaiju celebration we haven't done in a while on this podcast.
Enjoy, and listen to all our past Godzilla episodes as well if you're interested!
Episode #162 – Godzilla Retrospective Spectacular!
Episode #163 – Shin Godzilla Review
Episode #86 – Godzilla 2014 Review
Episode #287 – Godzilla: King of the Monsters Review
TIME CHART:
Intro & Stuff: 0:00:00 – 0:23:20
King Kong vs Godzilla (and other Toho movies): 0:23:20 – 1:20:22
Godzilla vs Kong (and other Legendary movies): 1:20:22 – 2:38:31
Stream The Weekly Stuff Podcast Episode #370
Subscribe to the WEEKLY SUIT GUNDAM Podcast!
Subscribe to our YouTube Channel!
Subscribe for free to 'The Weekly Stuff' in Apple Podcasts!
Follow Jonathan Lack on Twitter!
Follow Sean Chapman on Twitter!
The Weekly Stuff with Jonathan Lack & Sean Chapman is a weekly audio podcast, and if you subscribe on Apple Podcasts or wherever you get your podcasts, episodes will be delivered automatically and for free as soon as they are released. Visit www.weeklystuffpodcast.com for a complete archive of streaming and downloadable episodes.