Discover more from The Weekly Stuff Wordcast
Writing about Movie, Games, TV & more!
The Weekly Stuff Podcast #375 – Resident Evil Village Impressions, Dragon Ball News & More!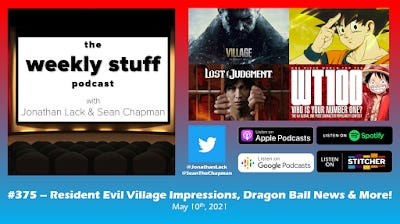 It's a fun grab-bag style episode this week as we discuss several pieces of recent news, from the results of the One Piece World Top 100 poll to Sega announcing Yakuza spin-off Lost Judgment to Toei finally confirming a new Dragon Ball Super movie for 2022, before moving on to our first, largely spoiler-free impressions of Resident Evil Village. It's an outstanding game so far, building on what Resident Evil 7 did so well while also harkening back to entries like Resident Evil 4, and proving itself an incredible artistic and technical showcase along the way. We'll go into spoiler details next week, but for now, our first impressions are extremely positive. And to finish, Jonathan talks about playing Resident Evil 5 in co-op with his brother, and talks about going to see a bunch of movies in the theater now that he has vaccine superpowers.
Enjoy! 
TIME CHART:
Intro & Stuff: 0:00:00 – 0:34:12
News: 0:34:12 – 1:13:58
Yakuza: Like a Dragon Chat: 1:13:58 – 1:20:37
Resident Evil Village Impressions: 1:20:37 – 2:06:34
Stream The Weekly Stuff Podcast Episode #374
Subscribe to our YouTube Channel!
Subscribe to the WEEKLY SUIT GUNDAM Podcast!
Subscribe for free to 'The Weekly Stuff' in Apple Podcasts!
Follow Jonathan Lack on Twitter!
Follow Sean Chapman on Twitter!
The Weekly Stuff with Jonathan Lack & Sean Chapman is a weekly audio podcast, and if you subscribe on Apple Podcasts or wherever you get your podcasts, episodes will be delivered automatically and for free as soon as they are released. Visit www.weeklystuffpodcast.com for a complete archive of streaming and downloadable episodes.