Discover more from The Weekly Stuff Wordcast
Writing about Movie, Games, TV & more!
The Weekly Stuff Podcast #378 – Batman on Film Part 7: BATMAN BEYOND - RETURN OF THE JOKER (2000) with Will Friedle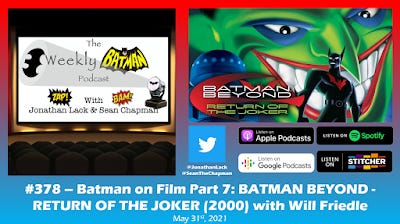 It's time for another episode of The Weekly Stuff Podcast with Jonathan Lack & Sean Chapman, a weekly audio show that explores the worlds of film, television, and video games. You can subscribe for free in Apple Podcasts or wherever you get your podcasts.
After going through some big pre-E3 video game news – including events about Dragon Quest, Sonic the Hedgehog, and Horizon: Forbidden West – and some other odds and ends, we dive into Part 7 of our BATMAN ON FILM series, with the 2000 direct-to-video feature Batman Beyond: Return of the Joker. Produced by the same team behind the classic Batman: The Animated Series (and earlier film reviewed in this series, Mask of the Phantasm), Batman Beyond broke bold new ground for the caped crusader on television, and this film is no exception. Originally edited for violent content in the wake of the Columbine school shootings before releasing an uncut version a few years later, Return of the Joker is one of the darkest and most brutal Batman outings, but also one of the richest and most rewarding, a story about the past, present, and future of Batman's world that brings a surprising amount of closure to this incarnation of Batman and the Joker, and cements Will Friedle's Terry McGinnis as a worthy successor to the cowl.
Enjoy! 
TIME CHART:
Intro: 0:00:00 – 0:04:09
Stuff: 0:04:09 – 0:16:51
News: 0:16:51 – 1:01:06
Batman Beyond: 1:01:06 – 2:10:52
Stream The Weekly Stuff Podcast Episode #378
Subscribe to our YouTube Channel!
Subscribe to the WEEKLY SUIT GUNDAM Podcast!
Subscribe for free to 'The Weekly Stuff' in Apple Podcasts!
Follow Jonathan Lack on Twitter!
Follow Sean Chapman on Twitter!
The Weekly Stuff with Jonathan Lack & Sean Chapman is a weekly audio podcast, and if you subscribe on Apple Podcasts or wherever you get your podcasts, episodes will be delivered automatically and for free as soon as they are released. Visit www.weeklystuffpodcast.com for a complete archive of streaming and downloadable episodes.