Discover more from The Weekly Stuff Wordcast
Writing about Movie, Games, TV & more!
The Weekly Stuff Podcast #380 – E3 2021 Analysis Spectacular! (Part 1) – "The E3 That Almost Wasn't, But Then Was"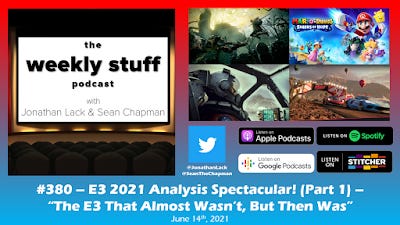 It's time for another episode of The Weekly Stuff Podcast with Jonathan Lack & Sean Chapman, a weekly audio show that explores the worlds of film, television, and video games. You can subscribe for free in Apple Podcasts or wherever you get your podcasts.
After being cancelled in 2020, E3 – the Electronic Entertainment Expo, aka "That Week With All the Video Game Trailers" – is back, sort of, for 2021, in entirely online form. And as we've done since the beginning, we're covering all of it, with today's episode going over the shows from Ubisoft, Microsoft/Bethesda, Square Enix, and the Summer Games Fest, with Sean's traditionally exhaustive and/or obsessive notes as our guide! It's not a particularly good E3 so far, but with looks at Elden Ring, Mario + Rabbids: Sparks of Hope, Forza Horizon 5, Babylon's Fall, S.T.A.L.K.E.R 2 and more, there's still plenty of interesting stuff to talk about. And before we dive into the E3 news, we also break down some interesting news from the world of Gundam, and give first impressions of Insomniac's PS5 exclusive Ratchet + Clank: Rift Apart, which is pretty wonderful so far.
Enjoy, and come back next week for the rest of our E3 coverage, including Nintendo's showcase! 
TIME CHART:
Intro: 0:00:00 – 0:07:43
Ratchet & Clank: Rift Apart Impressions: 0:18:33 – 0:36:52
Jonathan's Resident Evil Adventures: 0:36:52 – 0:46:35
Gundam News: 0:46:35 – 1:00:26
E3 2021 Analysis: 1:00:26 – 3:16:47
Stream The Weekly Stuff Podcast Episode #380
Subscribe to our YouTube Channel!
Subscribe to the WEEKLY SUIT GUNDAM Podcast!
Subscribe for free to 'The Weekly Stuff' in Apple Podcasts!
Follow Jonathan Lack on Twitter!
Follow Sean Chapman on Twitter!
The Weekly Stuff with Jonathan Lack & Sean Chapman is a weekly audio podcast, and if you subscribe on Apple Podcasts or wherever you get your podcasts, episodes will be delivered automatically and for free as soon as they are released. Visit www.weeklystuffpodcast.com for a complete archive of streaming and downloadable episodes.