Discover more from The Weekly Stuff Wordcast
Writing about Movie, Games, TV & more!
The Weekly Stuff Podcast #88 - X-Men, Watch Dogs, Mario Kart 8, & More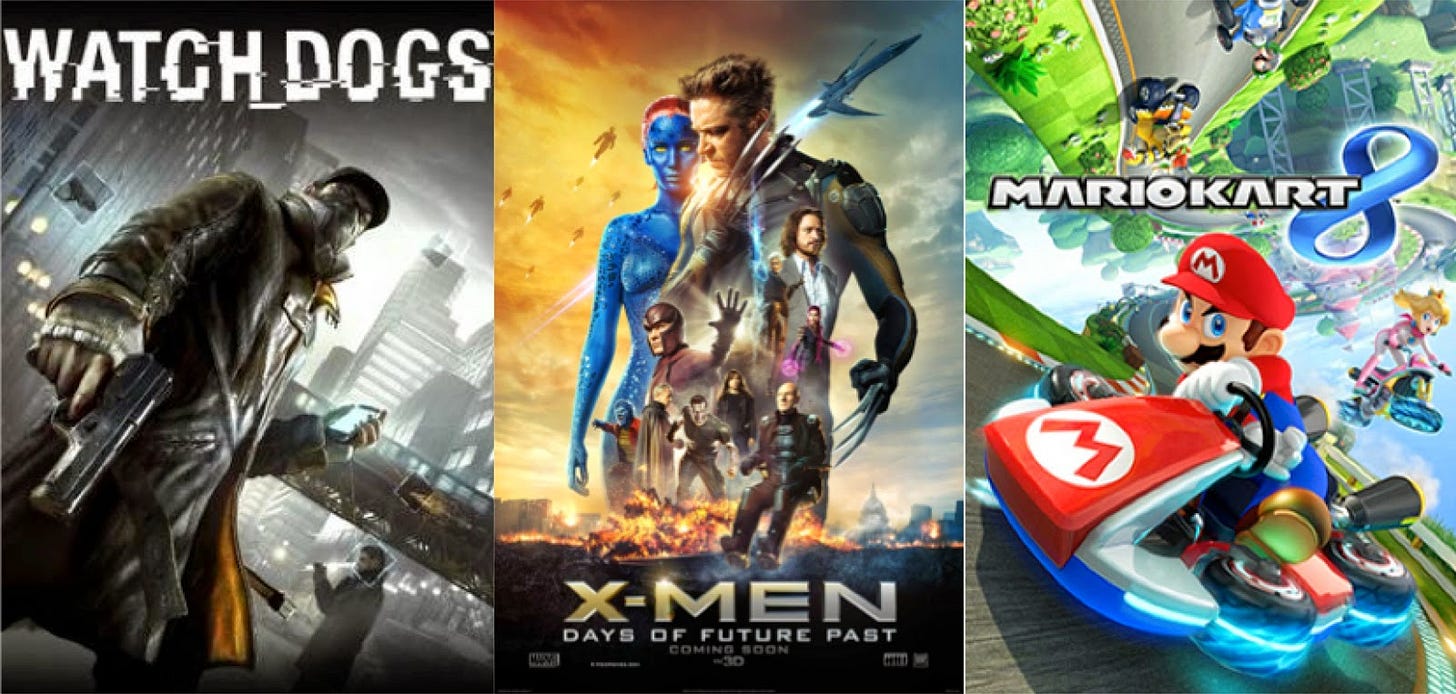 It's time for another episode of The Weekly Stuff Podcast with Jonathan Lack & Sean Chapman, a weekly audio show that explores the worlds of film, video gaming, and television. Remember to subscribe for free in iTunes by following this link!
I would have to go back through our entire archive to confirm this, but I think it's entirely possible that Sean and I have never recorded a podcast quite so busy as this one. In addition to catching up on two weeks worth of news – including the saga of Marvel's Ant-Man following the departure of director Edgar Wright, and the announcement of the hilariously awful title for Warner Bros' Batman/Superman movie – we also have four major discussion topics on tap this week: A preview of next week's E3 conference, a quick review of Mario Kart 8 for the Wii U, a longer review of Watch Dogs for the PlayStation 4, and an in-depth discussion of Brian Singer's X-Men: Days of Future Past (which I reviewed in print here).
So yeah. That's a lot of stuff, and it probably makes for too long an episode. Thankfully, these are all interesting topics – especially X-Men, which made for a much deeper and more substantive conversation than I think either of us could have predicted – and if you can divvy the show up to listen to in chunks, there is hopefully some entertainment to be had.
Enjoy, and come back next week for our coverage of E3!


Download and Stream 'The Weekly Stuff' Episode #88 as an MP3
Subscribe for free to 'The Weekly Stuff' in iTunes!
Follow 'The Weekly Stuff' RSS Feed Online!
If you have questions, comments, or concerns about The Weekly Stuff, or would like to write in to the podcast to have your questions read on the show, please e-mail dinochow@jonathanlack.com.
The Weekly Stuff with Jonathan Lack & Sean Chapman is a weekly audio podcast, and if you subscribe in iTunes, episodes will be delivered automatically and for free as soon as they are released. If you visit www.jonathanlack.com, we also have streaming and downloadable versions of new and archival episodes for your listening pleasure.