Discover more from The Weekly Stuff Wordcast
Writing about Movie, Games, TV & more!
The Weekly Stuff Podcast #93 - Guardians of the Galaxy, Robin Williams, Gamescom & More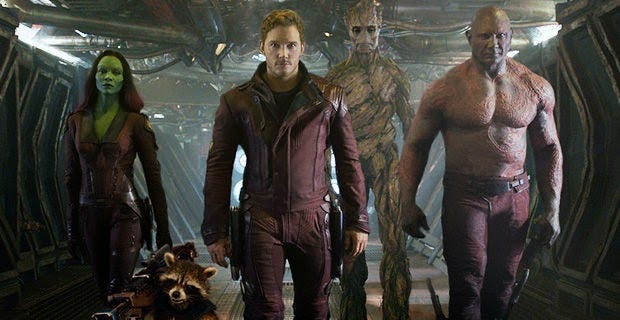 It's finally time for another episode of The Weekly Stuff Podcast with Jonathan Lack & Sean Chapman, a weekly audio show that explores the worlds of film, video gaming, and television. Remember to subscribe for free in iTunes by following this link!
There is a ton to cover on this week's show – in part because we (once again) missed a few weeks, in part because things have been eventful lately – but the passing of the legendary Robin Williams obviously casts a shadow over all of it. As we say at the top of the show when paying tribute to the actor, he was one of the first film and TV performers we ever knew, and a permanent pop culture fixture our entire lives. His death cuts deep, and while words obviously aren't enough to explain or contain his greatness, we try our best at the beginning of the show.
From there, though, it's business as usual, as we cover a few weeks' worth of movie and gaming news, including all the big announcements out of Gamescom 2014, before moving on to our in-depth review and analysis of Marvel's Guardians of the Galaxy. It's a film both of us had been looking forward to immensely, and it's become an unexpected smash hit – so what did we think of it?
Enjoy, and come back next week (promise!) as we prepare for the incoming Twelfth Doctor by re-watching classic Doctor Who introduction episodes from the life of the series.


Download and Stream 'The Weekly Stuff' Episode #93 as an MP3
Subscribe for free to 'The Weekly Stuff' in iTunes!
Follow 'The Weekly Stuff' RSS Feed Online!
If you have questions, comments, or concerns about The Weekly Stuff, or would like to write in to the podcast to have your questions read on the show, please e-mail dinochow@jonathanlack.com.
The Weekly Stuff with Jonathan Lack & Sean Chapman is a weekly audio podcast, and if you subscribe in iTunes, episodes will be delivered automatically and for free as soon as they are released. If you visit www.jonathanlack.com, we also have streaming and downloadable versions of new and archival episodes for your listening pleasure.