Discover more from The Weekly Stuff Wordcast
Writing about Movie, Games, TV & more!
The Weekly Stuff Podcast #121 - Reviewing "Halo 5: Guardians"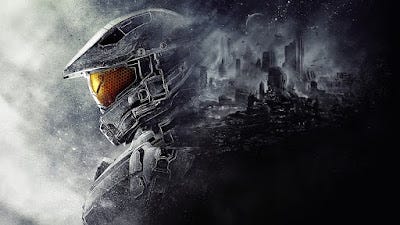 It's time for another episode of The Weekly Stuff Podcast with Jonathan Lack & Sean Chapman, a weekly audio show that explores the worlds of film, television, and video games. You can subscribe for free in iTunes by following this link.
This is a sad episode.
There are some fun topics. We finally get to talk about the new Dragon Ball Z movie, Resurrection 'F', which is a blast. It's a lot of fun to watch, and to talk about. And Doctor Who is still on a hell of a roll, with the latest episode, "The Zygon Invasion," continuing the show's hot streak.
But the bulk of this episode is devoted to reviewing the latest game in one of our favorite series, Halo 5: Guardians, and the results are unfortunately disappointing. This is a game with such a strong command of the fundamentals, and so much raw potential, and so much of it goes unrealized. Speaking ill about Halo is never fun, and up to this point, it's been pretty rare. But there's no getting around it this time, and our spoiler-filled discussion of the game, its multiplayer, and its campaign is a deep dive into one of the year's bigger let-downs.

BUT - exciting news is at hand too! After years of sharing his thoughts as co-host of the podcast, Sean Chapman has contributed a full written review to the site, of Halo 5. It's an excellent piece, and largely spoiler-free, so if you're still on the fence, give Sean's review a read. It's great. 
Enjoy! 


Download and Stream 'The Weekly Stuff' Episode #121 as an MP3


Subscribe for free to 'The Weekly Stuff' in iTunes!
Follow 'The Weekly Stuff' on Tumblr!
If you have questions, comments, or concerns about The Weekly Stuff, or would like to write in to the podcast to have your questions read on the show, please e-mail dinochow@jonathanlack.com.
The Weekly Stuff with Jonathan Lack & Sean Chapman is a weekly audio podcast, and if you subscribe in iTunes, episodes will be delivered automatically and for free as soon as they are released. If you visit www.jonathanlack.com, we also have streaming and downloadable versions of new and archival episodes for your listening pleasure.