Discover more from The Weekly Stuff Wordcast
Writing about Movie, Games, TV & more!
Unboxing the Vinyl Edition of Bruce Springsteen's "Wrecking Ball" - "Let me hear your voices call" for this picture log!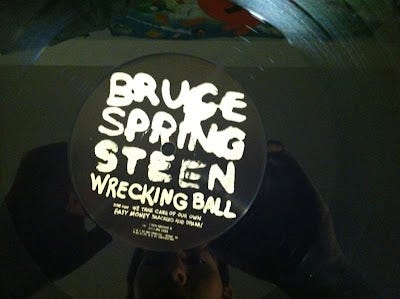 The label of the vinyl edition of "Wrecking Ball"

The album I've been writing about for weeks is finally here - literally!  Wrecking Ball, the latest studio album from Bruce Springsteen, arrives in stores today in a variety of packages - Regular CD, Special Edition CD, Digital, etc - but if you're an audiophile like me, it's likely you've opted for the Vinyl edition of the record.

My copy arrived from Amazon only a little while ago, and I documented the unboxing process - always an exciting moment - in pictures to share with other eager fans!  I haven't listened to the Vinyl version yet - I'm sadly away from my turntable today - so a review of the Vinyl sound quality will have to wait.  Until then, continue reading after the jump to see my picture log of the Unboxing!!


Before we get started, remember that all these pictures were taken in high-definition and can be seen in their full, large quality by clicking on the image.  Okay?  Let's begin....

First, there was the box, from Amazon, which is specially designed for LPs, contains a Shakespeare quote, and even had a sticker with the name of the album!! Very fancy...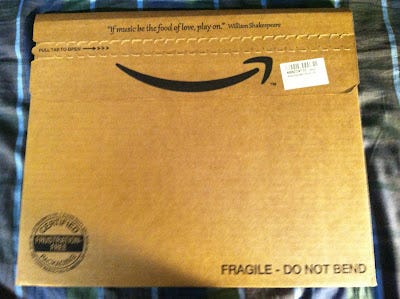 Next is the vinyl package itself, before I took it out of shrink-wrap....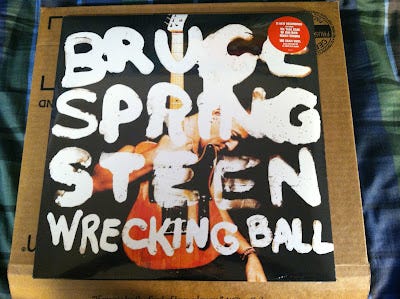 I must say, I haven't always been fond of the album's cover art, but seeing such a large, epic version of it definitely sold me on the simple power of the artwork.  I really like how it looks.  
There was a little red sticker on the shrink-wrap I thought you might like to see....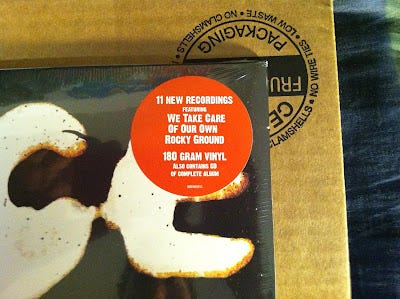 Now...I get why it mentions "We Take Care of Our Own," since it's the lead single, but why "Rocky Ground?" It's a fantastic song, but I don't that it's the famous, stand-out track you'd put next to the single.  Who knows?  Maybe they're planning on putting out "Rocky Ground" as the second single.  It would be a weird choice, but it would be interesting....

Anyway, here's the awesome back cover to the Vinyl edition:


Next, I took off the shrink-wrap and looked at what's inside the slipcover.  Wrecking Ball is presented on two pieces of 180-gram vinyl, and while some 2-vinyl collections fold out, both pieces are instead housed in the outer slipcase, each containing their own "sheath."  But first, here's the nice extra they threw in for customers: the CD version of Wrecking Ball!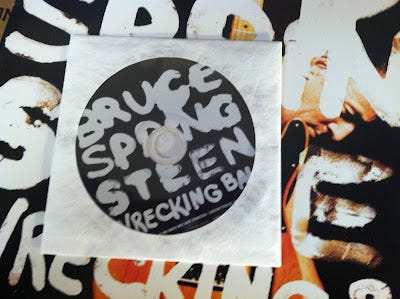 I'm really thankful they included the CD.  It's much better than being given a Digital Download - you can rip this CD in whatever bit rate you want, listen in the car, etc.  It's a really generous bonus, and though it isn't given a real 'case,' the slipcover is soft and protective.
As I said before, each piece of vinyl is housed in its own sheath, and these are really cool.  There's some beautiful photography, the complete lyrics, and more.  Here they are, front and back (you'll want to enlarge these, trust me):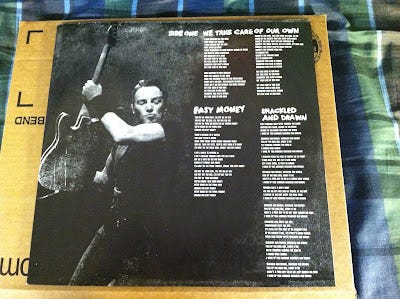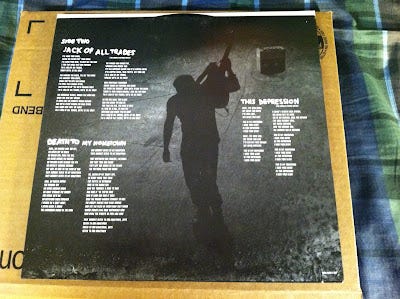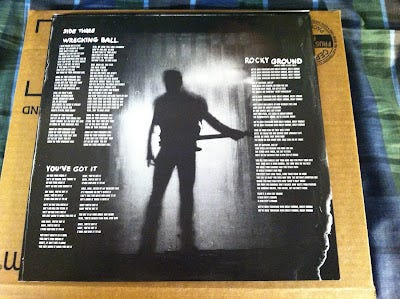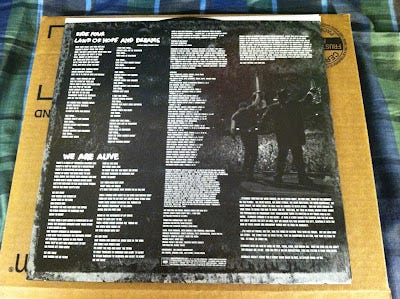 On that final side, we get the full personnel notes, the "Thank-Yous" from Bruce, and an excerpt from Bruce's eulogy to Clarence Clemons under a cool picture of Scooter and the Big Man.  It's a nice little homage to Clarence, just as classy as I would expect from Springsteen.  Here's a close-up of the eulogy: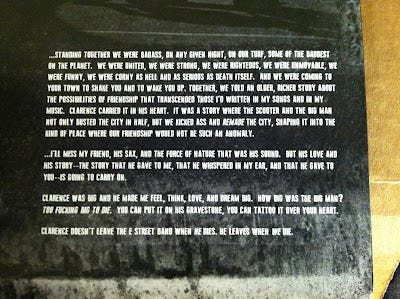 And, finally, we have the Vinyl itself.  They all look basically the same, of course, so here's a picture of Side One: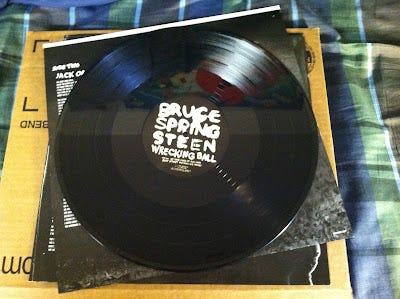 And that's all for now!  All in all, I don't think I could ask for more out of this package.  I only paid twenty dollars at Amazon, and that's a ridiculously low price for two pieces of vinyl, a CD, and very nice packaging.  Suffice it to say, I'm satisfied with my purchase.

If there's any other pictures of the package you'd like to see, sound off in the comments and I'll see what I can do!

Enjoy Wrecking Ball day everybody!!