Discover more from The Weekly Stuff Wordcast
Writing about Movie, Games, TV & more!
Weekly Suit Gundam #12 – Victory Gundam Review & Discussion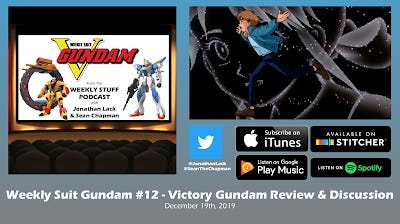 It's time for Weekly Suit Gundam, a show exploring the world of Mobile Suit Gundam from the The Weekly Stuff Podcast with Jonathan Lack & Sean Chapman. You can subscribe for free in iTunes by following this link. 
Our first year of Weekly Suit Gundam comes to a close as we reach the end of the Universal Century with 1993's Mobile Suit Victory Gundam, the final full series set in the Universal Century and the last before creator Yoshiyuki Tomino took a break from the franchise and Sunrise branched out into Alternate Universe stories. Victory Gundam is famously one of the darkest installments in the series, with a large cast, a shockingly high mortality rate, and the youngest protagonist so far in 13-year-old Uso Ewin. It's also one of Gundam's most commonly underrated achievements, an imperfect but frequently brilliant series that contains some of the best moments, characters, action sequences, and episodes, and which lingers long after one finishes watching. We dive deep with the series, but also reflect on our first year of the Weekly Suit Gundam podcast, look towards the future, and discuss Fathom Events' recent theatrical screening of Char's Counterattack to celebrate Gundam's 40th anniversary. 
Enjoy!
Stream Weekly Suit Gundam Part #12


Download Weekly Suit Gundam Part #12 as an MP3
Subscribe to our YouTube Channel!
Subscribe for free to 'The Weekly Stuff' in iTunes!
Follow Jonathan Lack on Twitter!
Follow Sean Chapman on Twitter!
The Weekly Stuff with Jonathan Lack & Sean Chapman is a weekly audio podcast, and if you subscribe in iTunes, episodes will be delivered automatically and for free as soon as they are released. If you visit www.jonathanlack.com, we also have streaming and downloadable versions of new and archival episodes for your listening pleasure.