Discover more from The Weekly Stuff Wordcast
Writing about Movie, Games, TV & more!
Weekly Suit Gundam #28 – Mobile Suit Gundam 00 - Season 1 Review & Discussion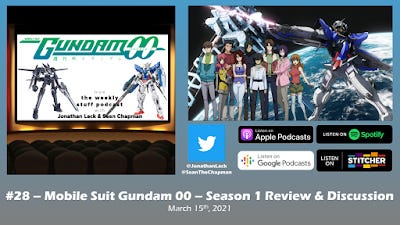 It's time for Weekly Suit Gundam, a show exploring the world of Mobile Suit Gundam from The Weekly Stuff Podcast with Jonathan Lack & Sean Chapman. You can subscribe for free in iTunes by following this link.
Gundam moves boldly into the era of HD, widescreen, and 21st century geopolitics with Mobile Suit Gundam 00, an absolutely terrific installment that's wickedly smart, wildly exciting, and features some of the best characters and world-building of the entire franchise. It's also the first Gundam series to split itself into seasons, so on today's episode we're covering Season 1 – Episodes 1-25 – which work pretty splendidly on their own, as the story of the rise and fall of Celestial Being, a stateless military organization aiming to eradicate war through armed intervention. We discuss the story, world, themes, characters, and so much more, including the incredible production values and remarkable batch of theme songs, for a Gundam show that's definitely worth the deep dive treatment.
Enjoy, and come back next time for Season 2 of Gundam 00! 
Subscribe to our YouTube Channel! 
Subscribe for free to 'The Weekly Stuff' in Apple Podcasts!
Follow Jonathan Lack on Twitter!
Follow Sean Chapman on Twitter!
The Weekly Stuff with Jonathan Lack & Sean Chapman is a weekly audio podcast, and if you subscribe on Apple Podcasts or wherever you get your podcasts, episodes will be delivered automatically and for free as soon as they are released. Visit www.weeklystuffpodcast.com for a complete archive of streaming and downloadable episodes.