Discover more from The Weekly Stuff Wordcast
Writing about Movie, Games, TV & more!
2017 Denver Film Critics Society Awards Nominations Announced, led by "Lady Bird," "Get Out," "Call Me By Your Name"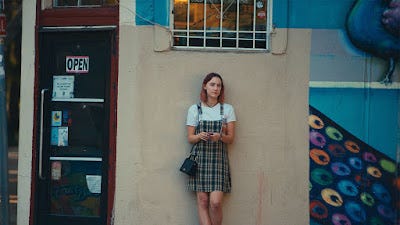 Yesterday, the Denver Film Critics Society, of which I am a voting member, announced its awards nominations for our picks in cinema's best for 2017. There were, as I wrote about with my Top 10 list, an extraordinary number of great films this year, and that has translated to the best group of nominations we have ever had in my years voting with the organization. And I don't just say that because a surprising number of my pet nominees made it in – I say it because this is an unusually rich awards season that it starting to coalesce in very frustrating, exclusionary ways, and I think our nominations do a relatively good job celebrating the scope, diversity, and totality of the year in film. We're still missing some crucial categories (like Cinematography, which I lobbied for and got added in 2015, only to see it subsequently removed), and everyone will have nitpicks here and there, but I think on the whole this is a group of nominees we can all be proud of. We will be voting later this week for the final winners, which will be announced next week, and I am very excited to see who and what comes out on top.
For a full list of nominees, followed by a little commentary from me on most of the categories, continue reading after the jump…
Best Film
Call Me By Your Name
Dunkirk
Lady Bird
The Shape of Water
Get Out
These exactly match our Director nominations listed below, which is neat, so more thoughts on that in a second – I'll just say that these are five thoroughly great films that express diverse viewpoints, genres, artistic styles, and backgrounds, and capture the spirit of the year in film very well. I'm proud of having this group at the top of our list.
Best Director
Greta Gerwig, Lady Bird
Christopher Nolan, Dunkirk
Jordan Peele, Get Out
Guillermo Del Toro, The Shape of Water
Luca Guadagnino, Call Me By Your Name
As with Best Film, this is just about right in my estimation, especially if one puts aside personal taste and thinks about trying to define the year as a whole. Two first-time directors doing landmark work in Greta Gerwig and Jordan Peele, two beloved modern veterans arguably doing career-best work in Nolan and Del Toro, and an arthouse favorite making his masterpiece in Luca Guadagnino. I also appreciate the relative diversity of this field, with a female, black, and openly gay director all here – something you probably won't be able to say about the Oscar nominations. Gerwig will be my final vote here, as will Lady Bird in Best Film. 
Best Actor
Timothee Chalamet, Call Me By Your Name
Gary Oldman, Darkest Hour
James Franco, The Disaster Artist
Daniel Day-Lewis, Phantom Thread
Harry Dean Stanton, Lucky
I pushed hard for Lucky in a lot of categories during the nomination process, with no real sense if anyone else in the group would have the same passion, but we got it in where it counted most – here, for the late Harry Dean Stanton, who will absolutely be my vote. These are the kinds of moments that make me love having a critic's group to vote with: to shine a light on something the 'major' awards bodies are never going to recognize. And it's a very deserving, wide-open field all around here. My vote will be going to Stanton, and with Chalamet, Oldman, and Day-Lewis assumedly pulling different tastes in different directions, I have a feeling he could be a stealth favorite here.
Best Actress
Saoirse Ronan, Lady Bird
Frances McDormand, Three Billboards Outside Ebbing, Missouri
Margot Robbie, I, Tonya
Meryl Streep, The Post
Sally Hawkins, The Shape of Water
This isn't exactly my ballot (I made a Hail Mary-pass for Kristen Stewart in Persona Shopper by putting her at #1 on my list during the nomination process, but alas), but these are still five thoroughly deserving performances. My vote will go to Saoirse Ronan, but I'd be just as happy to see Margot Robbie, Sally Hawkins, or even Meryl Streep, whose work in The Post is her best and most vital in years.
Best Supporting Actor
Armie Hammer, Call Me By Your Name
Woody Harrelson, Three Billboards Outside Ebbing, Missouri
Sam Rockwell, Three Billboards Outside Ebbing, Missouri
Willem Dafoe, The Florida Project
Ray Romano, The Big Sick
This was the hardest category for me to whittle down during the nomination process, my shortlist containing over 20 names. None of the ones I nominated made it here (my #1 and #2, respectively, were David Lynch in Lucky and Patrick Stewart in Logan, which were probably pipe dreams), but these are all perfectly deserving. This is the one category in which I might vote for Three Billboards, a film I disliked on the whole, because Harrelson is easily the film's best and most effectively human component, and the movie peaked for me in his final scenes. But I could also go with Hammer or Dafoe and be just as happy, so I'll have to think about it.
Best Supporting Actress
Laurie Metcalf, Lady Bird
Allison Janney, I, Tonya
Mary J. Blige, Mudbound
Holly Hunter, The Big Sick
Bria Vinaite, The Florida Project
Only one from my personal ballot here, but it's the one that counts – Laurie Metcalf, who will absolutely be my final vote – and my other choices were proud longshots (including Karin Konoval as Maurice in War for the Planet of the Apes and Rooney Mara in A Ghost Story). But the others here were all on my shortlist, and I particularly like seeing Mary J. Blige make it in for Mudbound.
Best Sci-Fi/Horror Film
The Last Jedi
Get Out
It
Logan
Blade Runner 2049
To be frank, I'm not sure why we have this category, especially when we're missing much more essential ones like Cinematography and Editing, but then I don't make the rules. This is pretty much exactly what I put on my ballot, swapping out Logan for War for the Planet of the Apes (I like Logan better, but didn't think it qualified as a 'sci-fi' for whatever reason). My vote will be either Get Out or Blade Runner.
Best Animated FIlm
Coco
Loving Vincent
The LEGO Batman Movie
Despicable Me 3
The Breadwinner
I am very very very tired with American animation and as a result didn't see enough to vote for this category this year (and I'll exclude myself from voting here as well). I've heard Coco is great (the Frozen short scared me off) and I would love to see Loving Vincent. No idea why Despicable Me 3 is here, other than we needed 5 titles.
Best Comedy
The Big Sick
Thor: Ragnarok
The Disaster Artist
Lady Bird
I, Tonya
Another category that feels mostly redundant to me, especially in a year where some of the best films were comedies (or, at least, comedy-adjacent), but there are 4 very good films here that I hope are all trounced by Lady Bird.
Best Original Screenplay
The Big Sick
Lady Bird
Get Out
Three Billboards Outside Ebbing, Missouri
I, Tonya
Three Billboards is not a good screenplay, but to each their own. Lady Bird and Get Out are exemplary ones, and the former will have my vote. A solid category overall.
Best Adapted Screenplay
Star Wars: The Last Jedi
Molly's Game
Call Me By Your Name
The Disaster Artist
Logan
The Last Jedi and Logan were both Hail Mary-passes for me here that came to fruition, so that makes me smile, even if my vote will probably go to James Ivory for Call Me By Your Name. Though the sheer quality of Rian Johnson's writing on Star Wars, and the amount of bizarre 'fan' anger it has stoked, kind of makes me want to throw another vote its way.
Best Special Effects
The Last Jedi
Dunkirk
The Shape of Water
War for the Planet of the Apes
Blade Runner 2049
This was my exact ballot, so I guess I agree! My vote will go for War for the Planet of the Apes. I still don't know why we have this and no Cinematography category. That's weird.
Best Original Song
"Remember Me," Coco
"This Is Me," The Greatest Showman
"Evermore," Beauty and the Beast
"Visions of Gideon," Call Me By Your Name
"Mystery of Love," Call Me By Your Name
I don't care about this category and I'm not sure why we have it and I guess I'll give my vote to "Visions of Gideon" as it accompanies perhaps the single best shot of 2017.
Best Score
Hans Zimmer, Dunkirk
Dario Marianelli, Darkest Hour
Jonny Greenwood, Phantom Thread
Hans Zimmer and Benjamin Wallfisch, Blade Runner 2049
Alexandre Desplat, The Shape of Water
A good category all around. Blade Runner gets my vote here, but I'm a little bummed John Williams couldn't make it in for The Last Jedi.
Best Documentary
Jane
The Work
Chasing Coral
Faces Places
Dawson City: Frozen Time
Best Foreign Language Film
Thelma
Foxtrot
First They Killed My Father
Graduation
A Fantastic Woman