Discover more from The Weekly Stuff Wordcast
Writing about Movie, Games, TV & more!
2017 Denver Film Critics Society Awards Winners Announced - "Lady Bird," "Dunkirk" win top honors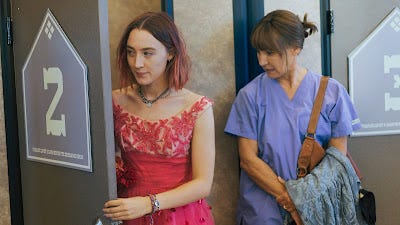 The Denver Film Critics Society, of which I am a voting member, has today announced its winners in our 2017 film awards. I wrote about the nominations when they were announced last week, and was very happy with our batch of potential winners. The final victors, which you can read about below, are a pretty damn strong group as well. Our Best Picture award went to Lady Bird, my favorite film of the year, while Best Director went to Christopher Nolan for Dunkirk (I would have preferred this one go to Greta Gerwig, but Dunkirk is an obvious and extraordinary directorial achievement and I cannot fault his win here). Lady Bird also won Best Actress for the wonderful Saoirse Ronan, while Best Actor went to Gary Oldman's transformative performance in Darkest Hour (I'll pour one out for the great Harry Dean Stanton, who made our nominations but didn't win in the competitive field). Supporting Actor wins went to Willem Dafoe and Allison Janney, while screenplay fields split between Jordan Peele's original Get Out and James Ivory's adaptation of Call Me By Your Name.
You can see all the award winners below, with nominations repeated for clarity's sake. All in all, I think our group did a great job this year recognizing what was extraordinary about film in 2017, and our final awards spread the love to a lot of different and diverse places. Read through the full list of winners after the jump…
Best Picture: Lady Bird
Nominations
Call Me By Your Name
Dunkirk
Lady Bird
The Shape of Water
Get Out

Best Director: Christopher Nolan, Dunkirk
Nominations
Greta Gerwig, Lady Bird
Christopher Nolan, Dunkirk
Jordan Peele, Get Out
Guillermo Del Toro, The Shape of Water
Luca Guadagnino, Call Me By Your Name

Best Actor: Gary Oldman, Darkest Hour
Nominations
Timothee Chalamet, Call Me By Your Name
Gary Oldman, Darkest Hour
James Franco, The Disaster Artist
Daniel Day-Lewis, Phantom Thread
Harry Dean Stanton, Lucky

Best Actress: Saoirse Ronan, Lady Bird
Nominations
Saoirse Ronan, Lady Bird
Frances McDormand, Three Billboards Outside Ebbing, Missouri
Margot Robbie, I, Tonya
Meryl Streep, The Post
Sally Hawkins, The Shape of Water

Best Supporting Actor: Willem Dafoe, The Florida Project
Nominations
Armie Hammer, Call Me By Your Name
Woody Harrelson, Three Billboards Outside Ebbing, Missouri
Sam Rockwell, Three Billboards Outside Ebbing, Missouri
Willem Dafoe, The Florida Project
Ray Romano, The Big Sick

Best Supporting Actress: Allison Janney, I, Tonya
Nominations
Laurie Metcalf, Lady Bird
Allison Janney, I, Tonya
Mary J. Blige, Mudbound
Holly Hunter, The Big Sick
Bria Vinaite, The Florida Project

Best Sci-Fi/Horror Film: Get Out
Nominations
The Last Jedi
Get Out
It
Logan
Blade Runner 2049

Best Animated Film: Coco
Nominations
Coco
Loving Vincent
The LEGO Batman Movie
Despicable Me 3
The Breadwinner

Best Comedy: The Big Sick
Nominations
The Big Sick
Thor: Ragnarok
The Disaster Artist
Lady Bird
I, Tonya

Best Original Screenplay: Jordan Peele, Get Out
Nominations
The Big Sick
Lady Bird
Get Out
Three Billboards Outside Ebbing, Missouri
I, Tonya

Best Adapted Screenplay: James Ivory, Call Me By Your Name
Nominations
Star Wars: The Last Jedi
Molly's Game
Call Me By Your Name
The Disaster Artist
Logan

Best Special Effects: War for the Planet of the Apes
Nominations
The Last Jedi
Dunkirk
The Shape of Water
War for the Planet of the Apes
Blade Runner 2049

Best Original Song: "Remember Me," Coco
Nominations
 "Remember Me," Coco
"This Is Me," The Greatest Showman
"Evermore," Beauty and the Beast
"Visions of Gideon," Call Me By Your Name
"Mystery of Love," Call Me By Your Name

Best Original Score: Hans Zimmer, Dunkirk
Nominations
Hans Zimmer, Dunkirk
Dario Marianelli, Darkest Hour
Jonny Greenwood, Phantom Thread
Hans Zimmer and Benjamin Wallfisch, Blade Runner 2049
Alexandre Desplat, The Shape of Water

Best Documentary: Faces Places
Nominations
Jane
The Work
Chasing Coral
Faces Places
Dawson City: Frozen Time

Best Foreign Language Film: Thelma
Nominations
Thelma
Foxtrot
First They Killed My Father
Graduation
A Fantastic Woman