Discover more from The Weekly Stuff Wordcast
Writing about Movie, Games, TV & more!
25 Reviews of Christmas #6 - "A Very She & Him Christmas" is a Holiday treat from Zooey Deschanel and M. Ward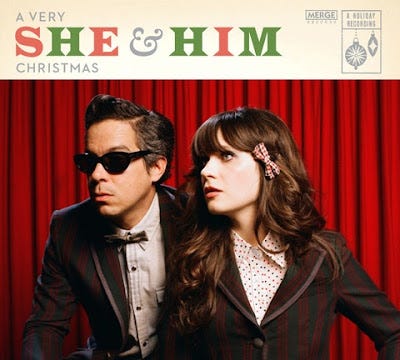 Welcome to the 25 Reviews of Christmas here on www.jonathanlack.com!  As explained in this post, I'm devoting the first 25 days of December to celebrating great Christmas movies, TV shows, specials, songs, and albums, with a Christmas-related review posting every single day for 25 days! 
More music!  Today we're looking at "A Very She & Him Christmas," the latest, most festive album by the indie duo comprised of "New Girl" Zooey Deschanel and M. Ward!  Remember to visit this page at any time for a collection of all 25 Reviews of Christmas articles. 
Enjoy! Review after the jump….
I know what you might be thinking today.  "Jonathan, didn't you already review this album like two months ago?"  Well, yes…yes I did.  In truth, I had originally planned to hold off on reviewing "A Very She & Him Christmas" until this December review series, but when I first heard the album, I couldn't help myself.  It made me want to write, and I wound up staying up until one in the morning (on a day when I had to wake up at seven) to finish the review. 
Ultimately, though, I decided I still wanted to discuss this album during this series, because the theme this year revolves around all my favorite Christmas-themed media, and "A Very She & Him Christmas" is the best Christmas album I've ever heard, hands down.
That may sound like a bold statement, but from my frame of mind, it's not exactly the highest praise I've ever given.  Christmas is my favorite time of the year; I live for December, for lighting the tree, decorating the house, spending time with family, watching Christmas specials, enjoying the snow, etc.  But Christmas music?  I find that to be a lot more hit and miss than the season itself, and I'm ultra-critical of Christmas music performances.  I just plain don't like many artists' renditions of the classics, and I'm always annoyed that no one seems to have written a new Christmas song in my lifetime.  I've grown up listening to my parents' vast collection of Christmas music, and not only do I find it all somewhat hit-and-miss, but I'm also continually struck by artists' inability to construct an actual Christmas album with momentum, flow, and steady thematic resonance.  Given the gargantuan number of songs at their disposal, the music industry should be able to do better, right? 
In short, I don't think Zooey Deschanel (She) and M. Ward (Him) have a lot of competition out there for the title of "best Christmas album."  That shouldn't take anything away from the excellence of this record, though, because what Deschanel and Ward have accomplished here is absolutely remarkable, the new standard by which all future Christmas albums – and individual recordings, for that matter – should be judged.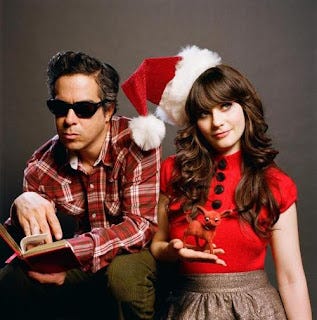 I'm a huge She & Him fan.  I don't care to admit how many times I've played their first two albums – "Volume One" and "Volume Two" – but suffice it to say, their songs are in fairly constant rotation on my iPod.  I'm so impressed by the duo's work that, much as I love Zooey Deschanel's acting, I'd almost prefer she give up the day job and commit entirely to music.  But I was a little wary when they announced their third album would be a Christmas project full of covers; their weakest material to date are the three covers found on "Volume One" – "You Really Got A Hold On Me," "I Should Have Known Better," and "Swing Low, Sweet Chariot" – all of which fell flat on an album that otherwise soared.  The prospect of an all-covers album, especially of such well-trod material, didn't sound promising. 
The highest praise I can give the album, then, is that Deschanel and Ward make all these songs their own.  From "I'll Be Home for Christmas" to "Silver Bells" to "Jingle Bell Rock" to "Little Saint Nick," each track sounds like a She & Him original.  The distinctive indie-folk flavor that defined their prior work is back in full-force here; they don't treat this as a pit-stop on their musical journey, as many artists do at Christmas, but as their proper third album, and that devotion to the material is what makes this one of the great achievements in modern Christmas-themed recording. 
After all, if any group working today were destined to record a Christmas classic, it would be She & Him.  Deschanel introduced her singing voice to the world in "Elf," and for many, her shower performance of "Baby It's Cold Outside" is more memorable than the film itself (not for me though, I loved the movie).  As the film hinted, Deschanel has a natural knack for Christmas music few artists possess, but I doubt even the most devoted Deschanel fans will be prepared for her performance on this album.  Her voice is crystal clear, gorgeous, full, and richer than ever before.  She is a singer in complete command of her craft, lending each song exactly what it needs to click; she can be soft and contemplative, fun and energetic, playful, adorable, etc.  Zooey thoroughly understands the heart behind each and every one of these songs, making them work in ways they rarely do.
In fact, it's surprising how many songs there are here that I usually can't stand.  "I'll Be Home for Christmas" is a well-written piece almost exclusively performed blandly, yet Deschanel and Ward breathe new life into it, providing the verve and character the song needs to soar.  "Blue Christmas" is so often unbearably melodramatic, but Deschanel's performance is a gorgeous vocal showcase that blows nearly every other incarnation of this song out of the water, bringing the heartbreaking emotions of the lyrics out in full force.  The phenomenon continues right on to the last track, where She & Him do the impossible by making the woefully overplayed "Christmas Song" sound new again. 
I don't want to undersell Ward's contributions, both as guitarist and producer.  The album takes a fairly traditional direction with these songs, and none of them are heavily produced; in a few cases, it's just Ward on acoustic guitar and Zooey on vocals.  Yet Ward produces each song in just the right way, putting a great amount of care and thought into which instruments and what production techniques will best enhance a given number.  Ward is known for reveling in simplicity, and just as Zooey was clearly born to sing Christmas songs, it's a talent that inherently makes him the right man for this job.  The brilliance of the She & Him partnership has never been so strongly vindicated as it is here.
Most impressive of all is that Ward and Deschanel structure this as a real, honest-to-God album.  As I said before, most artists just throw together a slapdash collection of festive songs, but Ward and Deschanel give great thought to sequencing and momentum.  Slow songs don't follow slow songs, the album never gets uncharacteristically fast, there's musical variation from one track to the next, gaps between tracks are almost nonexistent, and most importantly, the choice and order of songs – particularly using "Christmas Waltz" as the opening and ending with "Christmas Song" – gives the album a thematic through-thread that paints a vivid picture of the Christmas season and what it means.  This is one of the rarest-of-rare achievements in the recording world: a Christmas album that really flows as one complete, musical statement. 
It's not just the best Christmas album I've ever heard by a wide margin, but also a valuable entry in the She & Him canon, a strong next step for the duo that demonstrates their remarkable talents as music's most relentlessly pleasant performers.  I can't wait for new original material, but for the time being, "A Very She & Him Christmas" has earned its place as essential, annual December listening.