Discover more from The Weekly Stuff Wordcast
Writing about Movie, Games, TV & more!
Announcement: All-Month December Feature - "The 25 Reviews of Christmas"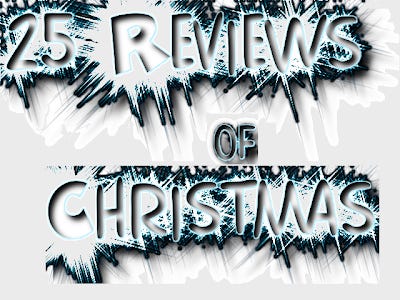 Happy Thanksgiving-eve, everybody!  As you may have noticed, there hasn't been much on the site over the past few days; you could say I'm on vacation.  In the literal sense, I am, visiting family in Iowa.  But I'm also not posting much on the site this week.  The reasons are twofold.  1) This past month has been the busiest month for posting I've had in a long time, possibly ever thanks to the Starz Denver Film Festival, and I need a couple of days off.  2) More importantly, I'm using this week to make final preparations for a major, exciting feature that's going to consume this site in the month of December….
And I'm finally ready to announce what that is.
I love Christmas.  It's my favorite time of the year.  The entire month of December is just awesome, and not even my startling tendency to get violently ill or break limbs on or around Christmas Day had stifled my love of the Holiday Season.  I've always wanted to use my writing to celebrate Christmas, but until I started my own site, I haven't had what I felt was an appropriate opportunity to go all out.  Now that there are no barriers, however, I'm going to do the all-out Christmas extravaganza I've always wanted to do, and it all starts one week from today! 
Starting on December 1st and continuing every single day through December 25th, there is going to be one review of a Christmas-related movie, TV special, album, etc. per day.  I'm calling it, not-so-cleverly, The 25 Reviews of Christmas.  Christmas media is a fascinating entity, sometimes good, often terrible, but always interesting.  This is a feature I intend to make annual, so this year's focus is on my personal favorite Christmas movies, shows, and music; we'll get to the really obscure, baffling stuff in the future.  This year is all about stuff I love, and I'll have a few running features within the review series, such as highlighting a different version of Charles Dickens' "A Christmas Carol" every five days.
But I want to keep most of this stuff a surprise…I think you'll really enjoy what I have in store for the next month.  I won't just be talking about the traditional Christmas fare we've all seen before; I've got a very good mix of material on the schedule. 
But regular movie reviews won't stop, either, as there's plenty of great stuff coming out in December I'm very excited to cover.  And, of course, there will be my annual Top Ten List once the 25 Reviews of Christmas have ended.  The films I've missed coming out today – such as Martin Scorsese's "Hugo" and "My Week With Marilyn," will be reviewed when I get back from Iowa, this weekend and early next week.
So visit www.jonathanlack.com every day through the month of December for The 25 Reviews of Christmas and more!  Times have never been more exciting on "Jonathan Lack at the Movies!"