Discover more from The Weekly Stuff Wordcast
Writing about Movie, Games, TV & more!
Jonathan Lack at the 34th Starz Denver Film Festival!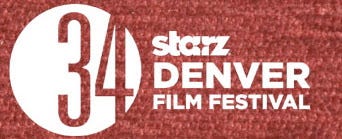 One of my favorite things about living in Denver has always been the city's extraordinary film culture.  In fact, I probably wouldn't write movie reviews were I limited to the selection most cities get, because unlike many parts of the country, we are blessed with a number of theatres devoted to showcasing limited-run, independent, and foreign film.  The Landmark Theatres such as the Mayan and the Esquire are probably the best-known examples, but we also have the Denver Film Society, which typically exhibits even more obscure movies than Landmark.  I've visited their Starz Film Center on the Auraria Campus (which will soon be shutting down in favor of the new Denver Film Center on Colfax), but I've never had the opportunity to attend the Society's Starz Denver Film Festival, the annual two-week showcase of film held every November.  I've wanted to go for years now, as many of my favorite films from a given year tend to make their Denver premiere at this festival, and there are plenty more movies that simply can't be seen anywhere else.
So I'm very excited to announce that this year, I will be attending the 34th Starz Denver Film Festival.  It begins this Wednesday night, November 2nd; there will be more details after the jump, but to summarize: I'll be attending thirteen films, including all three gala premiere nights, as well as most of the "special presentations."  Festival coverage, including reviews of each and every movie I see, will be posted here on www.jonathanlack.com, so if you're interested in reading about some of the best and most intriguing movies of 2011, stay close to this website for the next few weeks.  More details after the jump…
The Denver Film Society has been very vocal this year about the vast, exquisite collection of movies they've amassed, and indeed, I'm bummed that I can't attend more of the literally hundreds of films being screened.  I narrowed it down to the thirteen films that looked most interesting to me; many are ones I've been eager to watch since first hearing about them at Sundance or Cannes, while others I picked on blind faith.
Here's a list of all the movies I'll be seeing and reviewing at the festival; transporting between Boulder (where I go to school) and Denver will delay certain reviews, but for the most part, expect each review to go up a few hours after the screening, or the next morning. 
November 2nd: "Like Crazy" (Festival Opening Night)
November 3rd: "Melancholia" (Denver Film Center Opening Night)
November 4th: "Le Havre" and "Outrage"
November 5th: "Yukiko" and "The Descendants" (The "Big Night" Selection)
November 6th: "Wish Me Away" and "Tyrannosaur"
November 9th: "Shame"
November 11th: "We Need to Talk About Kevin"
November 12th: "The Artist" (Closing Night)
November 13th: "Butter" and "A Dangerous Method"
I'm very excited to see all of these films, and if you happen to be attending the festival as well, then please, come to the site and give me your thoughts on these movies!  And if you see me in person, feel free to say hi!  I always love meeting a fellow film aficionado. 
The Pay-Pal Donation Button found in the upper-right hand corner of the screen and at the bottom of this article was primarily put there to help cover the costs of the festival.  None of this is cheap, and I'm pleased to say I've already had one very generous donor who helped cover the costs of two or three tickets.  If you enjoy "Jonathan Lack at the Movies" and are looking forward to festival coverage, please consider donating to help make such content possible.
The festival begins this Wednesday, and you can expect my first review on Thursday morning!  Enjoy, and I hope to see some of you at the festival!