Discover more from The Weekly Stuff Wordcast
Writing about Movie, Games, TV & more!
Summer Movie Preview Spectacular! Part Two - "Prometheus," "Snow White," Pixar's "Brave," Woody Allen's return, and more!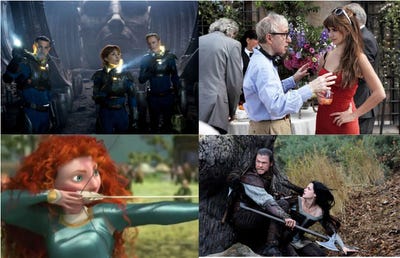 This Friday, the summer movie season officially kicks off with the release of Marvel's "The Avengers," and it's shaping up to be one of the most exciting film calendars in recent memory.  To help you navigate the storm of blockbusters on the horizon, I've put together a comprehensive guide to all the major releases hitting screens over the next four months, publishing over three days exclusively on www.jonathanlack.com.
Today, we're continuing our journey by examining all the releases for the month of June, complete with posters, embedded movie trailers, and my thoughts on the hype behind each film.  Come back tomorrow to finish off the summer with an overview of July and August.
Read the Summer Movie Preview Spectacular! Part Two After the jump…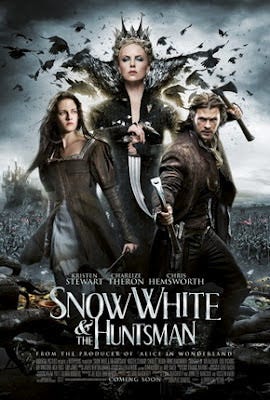 Snow White and 
the Huntsman
Release Date: June 1st
Directed by Rupert Sanders; Starring Kristen Stewart, Charlize Theron, Chris Hemsworth
I've been snickering at this movie for months now.  "A Snow White war epic a la 'Lord of the Rings?' With Charlize Theron and the chick who physically hurts me when I have to watch her terrible acting in 'Twilight?'" The whole affair seemed beyond silly.  Then I saw the trailer.  Ho. Lee. Cow.  I try not to put much stock, good or ill, in movie trailers, but with this, I couldn't help myself; no preview has ever so instantly and radically altered my level of excitement for a movie, so despite the silly title, "Snow White and the Huntsman" is now one of my most anticipated films of the summer.  The footage in the preview is visually breathtaking, endlessly inventive on just about every level; what initially sounded like a half-assed attempt to capitalize on name recognition now seems to be an imaginative, intelligent reinvention of a tired fairy tile, one with something worth adding to the pop culture conversation.  Much of the credit must go to director Rupert Sanders; it's his first feature film, but I and many others have wanted to see him tackle a major project like this ever since that amazing "Halo 3: ODST" ad he made.  The ingenuity that went into that commercial is absolutely on display in the footage we've seen so far, and while "Huntsman" could obviously go south very easily, if that creativity translates into the finished product, then we may be in for a real treat. 
As for the cast, Charlize Theron's masterful turn in "Young Adult" indicates she's absolutely perfect for the Wicked Queen; I'll watch Chris Hemsworth in anything after his amazing performance as Thor; and though Kirsten Stewart is awful in "Twilight," I try not to blame her for that.  Everyone's awful in "Twilight," and Stewart has proved herself perfectly adept in other roles.  If she's good in this, and the finished product is as awe-inspiring as the trailer, she may have a chance at a real career after "Twilight" is over.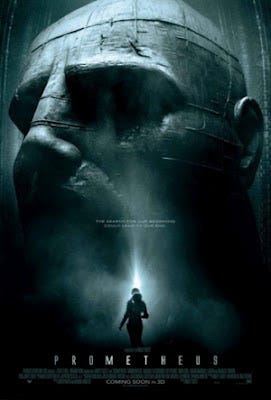 Prometheus
Release Date: June 8th
Directed by Ridley Scott; 
Starring Noomi Rapace, Michael Fassbender, Idris Elba, Charlize Theron
Ridley Scott returns to sci-fi with "Prometheus," a semi-prequel to his classic "Alien" that follows a team of scientists on a doomed archeological mission.  For a whole lot of people, this is one of the most anticipated movies of the summer, but I must sadly make a confession: I've never seen the Alien movies.  Now, before you begin your ritual stoning, please remember that my parents hadn't even met by the time the first two movies were out; it's not like I've been consciously avoiding them.  I even bought the box set recently, and I fully intend on watching (and, probably, writing about) them before "Prometheus" arrives.  So I'll admit that this one isn't on my fanboy radar in the same way it is for others.  Nevertheless, I'll never miss a Ridley Scott film, I'm hugely intrigued by the footage we've seen so far, and I'm very excited to see that excellent cast in action.  Whether it succeeds or fails, this is going to be one of the most interesting films of the summer.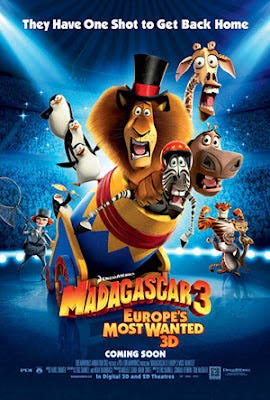 Madagascar 3:
Europe's Most Wanted
Release Date: June 8th
Directed by Eric Darnell, Tom McGrath, and Conrad Vernon; Starring Ben Stiller,
Chris Rock, David Schwimmer, and Jada Pinkett Smith
I liked the original "Madagascar" once upon a time, but it really never held up to repeat viewings, and "Madagascar 2" was a putrid amalgamation of everything I detest in modern (non-Pixar) animated films.  To say that I'm actively dreading "Madagascar 3" would be an understatement.  At its best, the marketing has been underwhelming, but at its worst, the early footage is downright grating, and I have zero expectations – well, other than negative ones – for the finished product.  It could possibly surprise me, and I completely understand DreamWorks' financial motivations behind pumping another one out, but at this point, I see no creative reason for the franchise's continued existence.  Not even occasional fits of Penguin-related laughter are enough to make me interested, and with much more appealing family fair on the horizon, I hope parents choose to skip this one.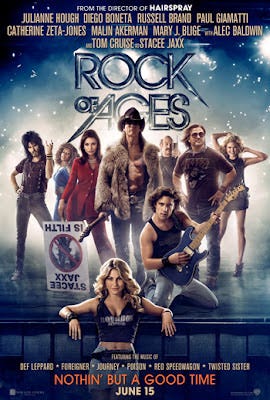 Rock of Ages
Release Date: June 15th
Directed by Adam Shankman; Starring Tom Cruise, Julianne Hough, Russell Brand, Bryan Cranston, Alec Baldwin, and Catherine Zeta-Jones
If I see this one, it will be for the cast, which is intriguingly zany (Cruise, Brandon, and Cranston on screen together? Cool!).  Other than that, film musicals don't much interest me, especially when they're based on broadway shows; "Rock of Ages" is a jukebox musical based around classic eighties rock, and though I like a lot of the music they're using, the only jukebox production I've ever enjoyed was "Across the Universe," and that didn't have the stage trappings that kill most of these movies.  I'm not necessarily adverse to Adam Shankman's previous work, but with him in the director's chair, it's pretty much guaranteed that the film will struggle to break away from its stagey roots.  The film could surprise me, but for now, it's nowhere near the top of my list.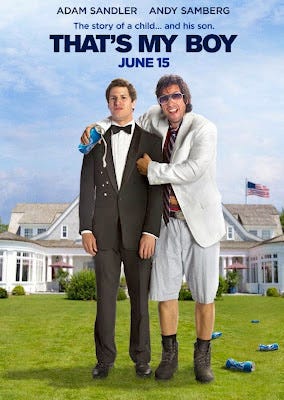 That's My Boy
Release Date: June 15th
Directed by Sean Anders; Starring Adam Sandler, Andy Samberg, Leighton Meester,
James Caan, Susan Sarandon, and anyone else wishing to destroy their career
Part of me wants Adam Sandler to retire.  His resume has never been spotless, but those are words I never would have written ten years ago.  Yet after "Chuck and Larry," "Zohan," "Grown Ups," "Just Go With It," and "Jack and Jill," I'm utterly convinced he's incapable of starring in anything better than films in contention for "worst of the year" list.  And after setting a Razzie record with "Jack and Jill," "That's My Boy" actually looks like it may turn out to be the low point of his career.  The set-up – Sandler's character has a child when he's a teenager, is a terrible father, and reconnects with his grown-up son (Andy Samberg) to borrow money – sounds awful on its own, but the trailer is up there among the most grating stretches of film I've ever had to endure.  I absolutely will not be seeing this one, just as I've skipped so much of Sandler's recent output, and if it's as bad as it looks, I suspect audiences will be doing the same.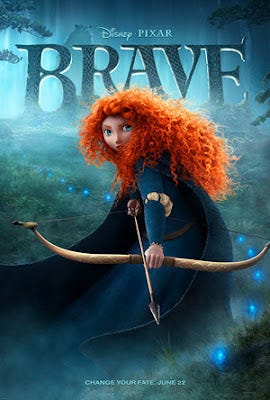 Brave
Release Date: June 22nd
Directed by Mark Andrews and Brenda Chapman; Starring Kelly McDonald,
Julie Walters, Billy Connolly, and Emma Thompson,
I'm having a very hard time getting a read on Pixar's latest project, but as always, I have faith in the house that Lasseter built (yes, even after "Cars 2").  Set in Scotland and featuring Pixar's first female protagonist, "Brave" at the very least looks fresh, and though the trailers have done little to piqué my excitement, the clip embedded below feels like classic Pixar through and through.  The company has a lot riding on this one, given the critical pounding they took last summer, and though "Brave" doesn't feel nearly as certain as "WALL-E" or "Up" did at this stage in marketing, I suspect Pixar will be back in everyone's good graces soon enough.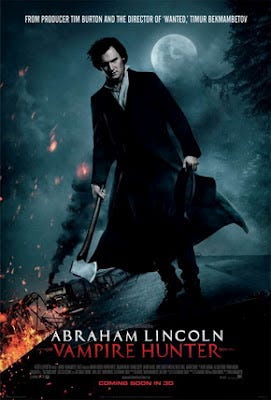 Abraham Lincoln:
Vampire Hunter
Release Date: June 22nd
Directed by Timur Bekmambetov; Starring Benjamin Walker, Dominic Cooper,
Mary Elizabeth Winstead, Anthony Mackie, and Rufus Sewell
Oh hell yeah.  If you haven't heard, "Abraham Lincoln: Vampire Hunter" is a satirical, alternate-history retelling of our 16th President's career where, after his mother is murdered by vampires, Lincoln trains to hunt down the undead.  This is a project that could go so disastrously wrong so fast, but the previews indicate that Bekmambetov is moving in the perfect direction, playing the material utterly straight-faced and going full-blown epic with the visuals and set pieces.  It just looks like a ton of fun, and though I'm unfamiliar with star Benjamin Walker, I really adore the rest of this ensemble.  Most importantly, this seems like it will be a genuinely surprising, unpredictable, and all around different kind of blockbuster, something we've been severely lacking in over the last few years.  It obviously won't be for everybody, but I'll be there day one.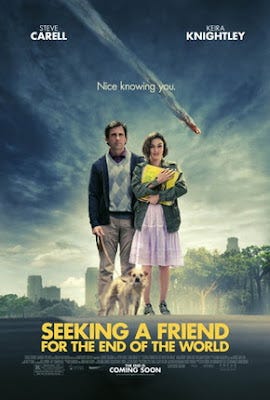 Seeking a Friend for
The End of the World
Release Date: June 22nd
Directed by Lorene Scafaria; Starring Steve Carell and Keira Knightley
I know very little about the people behind this movie, but I think Steve Carell and Keira Knightley are tremendous performers capable of more than they're often given, and based on the trailer, this seems like really strong material for both of them to work with.  They play two damaged people who come together to search for Carell's childhood sweetheart before an incoming asteroid brings on the apocalypse, and though I'm not entirely sold on the quirky humor of the trailer, the human element looks sincere and intriguing.  We'll just have to wait and see.
To Rome With Love
Release Date: June 22nd
Directed by Woody Allen; Starring Woody Allen, Alec Baldwin, Roberto Benigni,
Penelope Cruz, Jessie Eisenberg, and Ellen Page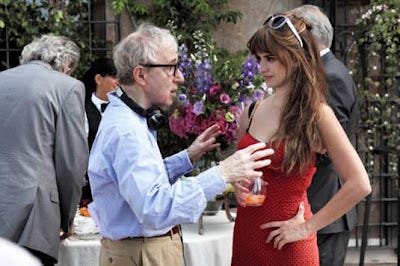 I will see whatever Woody Allen comes up with, every year, no exceptions.  With his staggering level of output, his material is bound to be hit and miss, but I find even the misses fascinating, and "To Rome With Love" seems so close to his comfort zone that I doubt it could be much of a disappointment.  The film consists of four vignettes following various families and lovers as they vacation in Rome, and I'm excited, if for no other reason, just to watch this talented ensemble recite Allen's dialogue (especially Ellen Page, who I haven't seen nearly enough of lately).  It could wind up being a misfire, and there's no way it will live up to last year's "Midnight in Paris," but I'm still eager to see what Allen has in store for us this time around.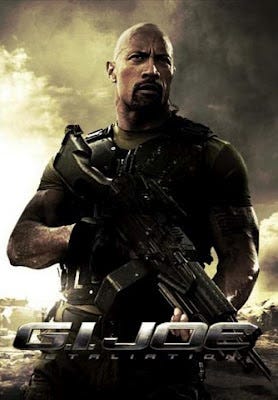 G.I. Joe: Retaliation
Release Date: June 29th
Directed by Jon M. Chu; Starring Dwayne Johnson, Bruce Willis, Channing Tatum,
Ray Park, Adrianne Palicki, Ray Stevenson, and Arnold Vosloo
I never bothered seeing the first live-action "G.I. Joe" film – my disinterest in it was roughly equivalent to my current apathy towards "Battleship" – but I find myself intrigued by "Retaliation."  The addition of Dwayne Johnson is extremely promising, as he's perfect casting for this sort of movie, and getting Bruce Willis back in full-blown action mode can only be a good thing.  Channing Tatum has cut his teeth on a lot of superior projects since the first film, so I'm even interested to see what he does here.  The marketing has been mostly effective, and though director Jon Chu doesn't come from an action background, I like what I'm seeing so far.  If "Retaliation" can deliver a simple story (convoluted plots are the bane of action flicks – just ask Michael Bay), decent characterization, and strong set-pieces, then I think the sequel could at least justify its otherwise perplexing existence. 
Magic Mike
Release Date: June 29th
Directed by Steven Soderbergh; Starring Channing Tatum, Alex Pettyfer,
Matthew McConaughey, Matt Bomer, and Olivia Munn
I find it endlessly amusing that this and "G.I. Joe" arrive in theatres the same day; both star Channing Tatum, and while the former features his current action hero persona, Soderbergh's "Magic Mike" returns him to his roots as a male stripper.  Yes, you read that right: Steven Soderbergh and Channing Tatum have teamed up to make a comedy about a group of male strippers.  I don't think there's going to be a middle ground on this one.  It's either going to be brilliant or it's going to be a disaster, but Soderbergh is another one of those directors who is always worth watching.  The presence of Matthew McConaughey would normally trouble me, because I hate him, but I think a male stripper is the one role I could actually buy him in, so who knows?  This is definitely one of the most intriguing prospects of the summer. 
Which movies are you most excited for?  Do you agree or disagree with any of my assessments?  Sound off in the comments!