Discover more from The Weekly Stuff Wordcast
Writing about Movie, Games, TV & more!
The Weekly Stuff Podcast #109 - E3 2015 Analysis Spectacular!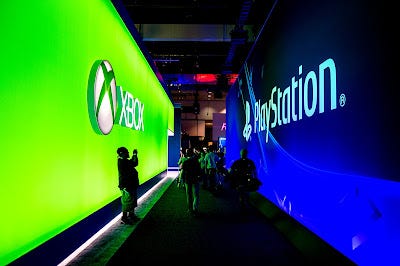 It's finally time for another episode of The Weekly Stuff Podcast with Jonathan Lack & Sean Chapman, a weekly audio show that explores the worlds of film, television, and video games. You can subscribe for free in iTunes by following this link.

E3 – the Electronic Entertainment Expo – is underway this week in Los Angeles, bringing with it a flurry of news from all corners of the gaming industry. As we do every year, we have devoted an entire episode to the show, breaking down press briefings from Sony, Microsoft, Bethesda, Nintendo, and more, analyzing all the big announcements, and discussing which games have us the most excited to play in 2015 and beyond.
Enjoy, and come back Monday for next week's episode, in which we recap the summer movie season to date, with thoughts on Avengers: Age of Ultron, Mad Max: Fury Road, Jurassic World, and more!


Download and Stream 'The Weekly Stuff' Episode #109 as an MP3
Subscribe for free to 'The Weekly Stuff' in iTunes!
Follow 'The Weekly Stuff' RSS Feed Online!
If you have questions, comments, or concerns about The Weekly Stuff, or would like to write in to the podcast to have your questions read on the show, please e-mail dinochow@jonathanlack.com.
The Weekly Stuff with Jonathan Lack & Sean Chapman is a weekly audio podcast, and if you subscribe in iTunes, episodes will be delivered automatically and for free as soon as they are released. If you visit www.jonathanlack.com, we also have streaming and downloadable versions of new and archival episodes for your listening pleasure.