Discover more from The Weekly Stuff Wordcast
Writing about Movie, Games, TV & more!
Welcome to 2012! What are the plans for the new year on "Jonathan Lack at the Movies?"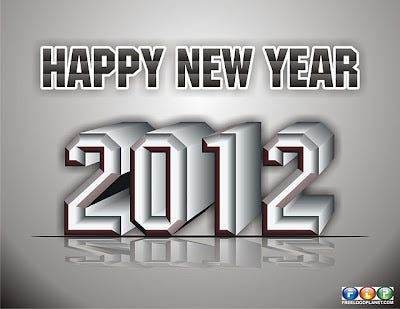 As you may have noticed, I've been away from the site for the past week; as always, I like my last article of the year to be my Top Ten List, and that's where I left things for 2011.  Having seen all the movies I wanted to see for the year, I took a vacation of sorts for the last week, which, looking through my archives, is easily the longest break I've taken from writing since starting this site. 
But now I'm back (having reviewed Steven Spielberg's "War Horse" last night) to belatedly wish you all a Happy New Year, and there will hopefully be a steady stream of content on the site over the next few weeks.  Hopefully being the operative word, because we're entering a very dry season for movies.  There are a few good-looking movies hitting theatres in January, I know of absolutely nothing coming out in February, and it doesn't seem like 2012 will really come alive until March, although that puts this year ahead of the curve, as 2010 and 2011 didn't bear anything of tremendous interest until summer.  Still, I'll review as many movies as I can, and if you have any suggestions for upcoming movies you'd like me to write about, please sound off in the comments.
Otherwise, I'm going to have to find something else to fill time here on www.jonathanlack.com during these lean months, and while nothing is set in stone, my current plan is to begin revisiting some nostalgic material in the world of literature and television.  The two movies I'm most excited for this year are Christopher Nolan's "The Dark Knight Rises" – because "The Dark Knight" is one of my very favorite movies and I love Batman – and even more importantly, Peter Jackson's "The Hobbit: An Unexpected Journey," because "The Lord of the Rings" trilogy is unquestionably my favorite film(s) of all time and the trailer released late last month blew my mind.  So if you're a fan of Batman or J.R.R. Tolkien, you may want to keep an eye on this site throughout 2012, as I'm going to begin diving into these worlds heavily starting very soon.   The next edition of The Monthly Ten Podcast is also going to be a very exciting one, as Sean Chapman and I and a few guest stars will revisit 2011 in film, TV, music, gaming, and more!
Other than that, I'm game to write about anything, so if you have any suggestions, ideas, or concerns, please feel free to sound off in the comments section below!  Anyone can comment, whether or not you have a Google account, and you can also reach me at my site e-mail, dinochow@jonathanlack.com. 
Thanks for reading throughout 2011, and here's hoping 2012 is even more exciting!