Discover more from The Weekly Stuff Wordcast
Writing about Movie, Games, TV & more!
Welcome to The Weekly Stuff Wordcast
Where we're going and why we're going there
Hello and welcome to The Weekly Stuff Wordcast! I'm Jonathan Lack, and today, I'm writing about stuff. 
You might know me from my podcast, The Weekly Stuff Podcast with Jonathan Lack and Sean Chapman, where my buddy Sean and I talk at great (some might say excessive) length about video games, movies, TV, anime, and pretty much whatever else is on our minds. You might know me from my second podcast with Sean, Weekly Suit Gundam, where we periodically break down the various TV shows, movies, and books that make up the Mobile Suit Gundam universe. You might know me from the writing I've done on movies and television for various platforms – including my website, www.jonathanlack.com – since I was 10 years old (I've been doing this a long time). Or you might not know met at all, which is cool too. Nice to meet you. 
No matter where you're coming from, I'm happy to have you here, as I embark on a little experiment and try something new. The Weekly Stuff Wordcast is a newsletter-style project, where I'll be writing at least one substantial piece a week, and sharing it with all of you here. You can sign up now with your e-mail address and get every issue delivered straight to your Inbox, completely free, or you can bookmark the site – https://weeklystuff.substack.com – and read it online. I've never tried anything quite like this, but more and more voices I admire are giving it a try, and I'm nothing if not deeply susceptible to peer pressure. So here we go. 
The Weekly Stuff Wordcast is going to be like The Weekly Stuff Podcast in that I'm going to write about things that interest me, and I'm not binding myself to any one set topic. You might get a piece on a new movie one week, an old movie another, a trend in video games the week after that, and so on. Hell, maybe I'll even write about a book at some point. It'll be different from the Podcast in that these pieces are going to be a lot more focused than a free-ranging podcast discussion can be. I don't really plan on writing 'reviews,' in the typical sense, because I want it to be broader than that, but you can think of these as little (or not so little, some weeks) essays or thinkpieces about some media subject. If you enjoy listening to the kinds of things we talk about on the podcast, I think you're really going to enjoy what I've got planned – and if you're not a podcast listener, but like what you read here, then you should probably also check out our show! 
Also, this newsletter is just going to be me for now, not because Sean isn't welcome here, but because I haven't talked to him about it yet. The last time we spoke we podcasted for almost 7 hours straight and really didn't want to hear each others' voices anymore by the end, and it slipped my mind. So we'll get that straightened out. If he wants to write anything for this newsletter feed, that would be awesome, and will make this a better deal for all of us. 
If you've followed me for any length of time, you probably know I used to write a lot. A lot. From back when I was blogging at The Denver Post's YourHub, to working away at my own website, to my time as Associate Editor at WeGotThisCovered, I've written a lot of movie reviews and TV recaps and Top 10 Lists and whatnot, and there was a time when I was churning out big pieces several times a week. Adult responsibilities, my ever-growing love for doing the podcast, and a general sense of burnout conspired to slowly but surely decrease my non-academic writing output to a crawl, and I don't like that about myself. I want to get back into writing more, and more regularly, and this is at least partially a way for me to give myself a kick in the pants. 
Plus, the longer we do the podcast, the better a sense I've gotten for which topics work best on the air, and which are ones I find myself scribbling notes about for a written article. There are some subjects that are simply better suited to writing than to podcasting, things I might find interesting but aren't in Sean's wheelhouse, or which I have a good idea on how to present in written form and don't want to wait for the podcast to present a more informal version of. 
For now, I have about two months of articles outlined and planned. This week's first big piece will be a very enthusiastic examination of the glorious dumpster fire that is Tom Hooper's Cats, which I had the great fortune to see with a very boisterous audience a few days ago. Next week, I've got a piece where I'll be trying to figure out which current-generation video game console controller I like the best. And for four weeks leading up to the April 10th release of No Time to Die, the latest James Bond film, I'll be doing a series on the first four Daniel Craig 007 movies, Casino Royale through Spectre, and why this has been both a wildly invigorating and often dispiriting era for the classic cinema hero. And while I've got plenty of other ideas filed away beyond that, I'm always open to suggestions for other things to do past that point, and I would love to hear what you've got in mind. 
The big weekly pieces will be going out on Wednesday mornings, for now, because it's the day that works best for how I'm laying things out in the beginning. And you'll also get a little piece with links to the week's Weekly Stuff Podcast on Mondays, just to make sure everyone is on the same page about what Sean and I have going on over at the audio show. 
I'm doing this all via Substack because, like I said, I like the model – an email newsletter that all you have to do to easily keep up to date with is enter your email address, and which also creates an online repository where everything will live and be readable to anyone. I'm not planning to put this stuff on my personal website just yet, because I've been publishing there for a long time and it's not a place I feel like I'm going to find a 'new' audience at this point. And the purpose of this project, if not to find a 'new' audience, is to see if we can expand upon the one we already have in new and interesting ways. 
Substack also gives me the option to turn on a paywall if I want to at some point in the future, and make this a paid subscription model. That's not the plan right now, and if it ever does become the plan, it won't be for a while, and you'll know well in advance. But if we can get a bit of an audience and if there's support for that idea? I certainly wouldn't mind a little extra income, considering we've been doing the podcast for free for almost ten years now. If I do it, it would be a very low price point, and I'd be completely open to suggestions from readers on what would work best and what you'd most like to see. But like I said, that's something to think about in the future – for now, I just want to get this ball rolling. 
For now, The Weekly Stuff Wordcast is very much an experiment. It could become something really special, or maybe it won't turn into anything at all. But I figure why not try for a little while and see how it goes? My biggest hope right now is that you give a try, let me know what you think – either through the comments or on Twitter (I'm @JonathanLack) – and share it with your friends if you like what you see! 
That's all for today – except a quick reminder that you really should be listening to The Weekly Stuff Podcast. If you haven't yet, there's no time like the present, as today's episode is an in-depth discussion of Sean and mine's favorite game of 2019, FromSoftware's masterful shinobi adventure Sekiro: Shadows Die Twice. It's the second part of our belated Top 10 Video Games of 2019 topic, and I really love how it all turned out. Stream it right here, or subscribe in your podcast app of choice, to give it a listen. And always remember to rate, review, and share if you like what you hear!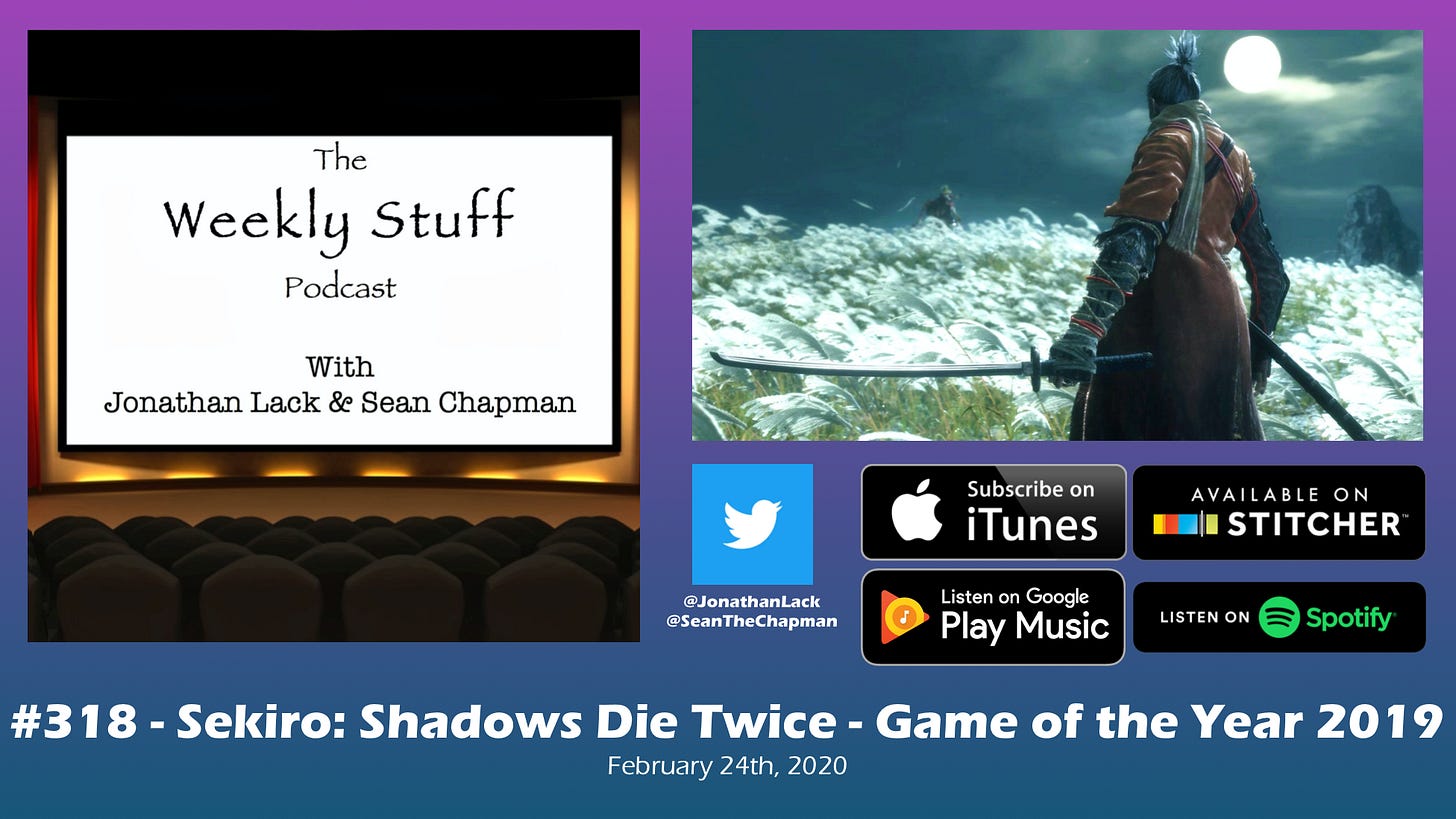 I'll see you all back here on Wednesday for that piece on Cats – it's a good one, and I think it's going to get this party started with an appropriately weird bang. Meow.